The following is reposted from The New Civil Rights Movement.
Will And Grace Creator Donates Park To Kentucky Town That Passed A Non-Discrimination Law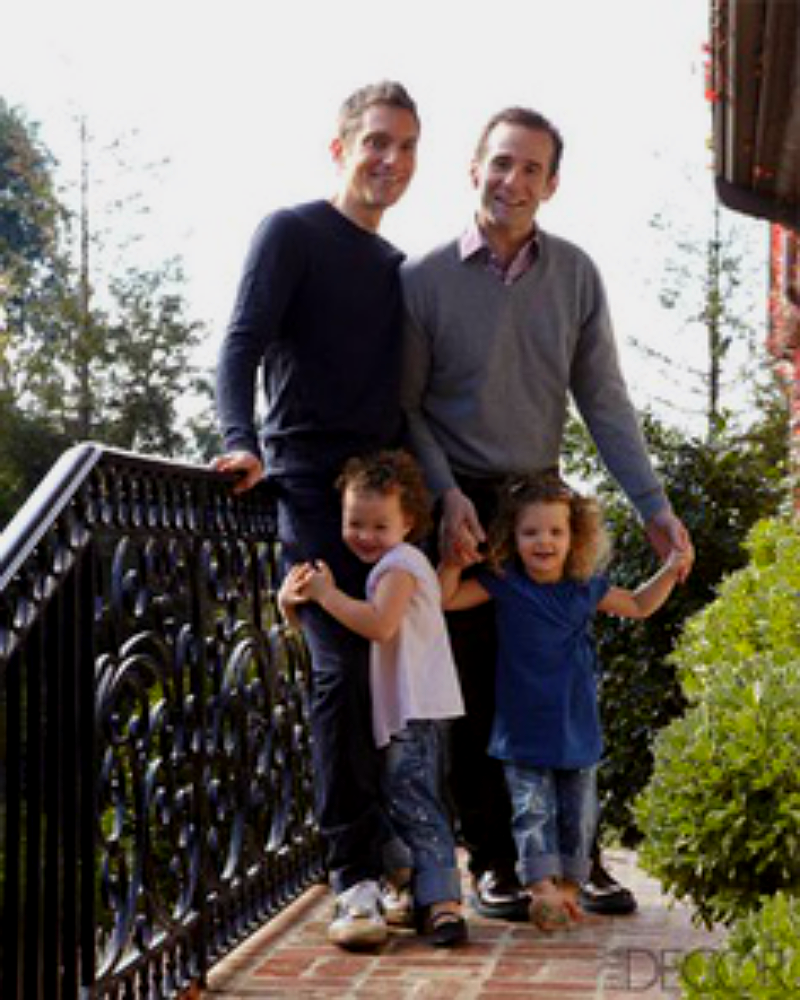 The creator of Will and Grace, Max Mutchnick, and his partner, entertainment lawyer Erik Hyman, gifted the town of Vicco, Kentucky, with a children's park, as a thank you for passing an LGBT non-discrimination ordinance.
Vicco, Kentucky is a tiny Appalachian coal town with about 350 people. It started out in 1964 as a company town of the Virginia Iron Coal and Coke Company, (hence its name Vicco) which still operates in the region. In January of 2013, Vicco became the smallest community ever to pass a non-discrimination law. They call it the "Fairness Ordinance" and it prohibits discrimination in matters of "employment, housing, and public accommodation based upon a person's actual or perceived sexual orientation and gender identity".
The passage of the Fairness Ordinance was no small feat. Vicco became the first Kentucky town to pass a non-discrimination ordinance since Covington passed one in 2003. It was supported by three of the city's four commissioners, Mayor Johnny Cummings and City Attorney Eric Ashley, who said on the occasion of its passage:
"Vicco is a community that believes all folks should be treated fairly. We believe everyone deserves the opportunity for life, liberty, and the pursuit of happiness. Fairness is a Kentucky value, a Vicco value, and one of our most American values."
On the other side of the country, word of Vicco's Fairness Ordinance made its way to the ears of Max Mutchnick and Erik Hyman, who are true Hollywood royalty. Max is the Emmy winning creator of Will and Grace, Erik is high-profile entertainment lawyer, and the two of them are fathers to twin daughters, Rose and Evan. Max was touched by Mayor Johnny Cummings, who sold the law one on one with the townspeople, and by the citizens of Vicco, who made public comments like these about the Fairness Ordinance:
"I think everyone should have rights, regardless of sexuality or whatever they may do. They still need to be treated equal," said Vicco native William Neace.

"We're all humans and have to live together, so I think it's good if we all treat each other like humans," said Glenn Jones, who lives in Hindman and supports the law.

"There's so much discrimination, and I believe that gays, lesbians and everybody to that effect needs the same opportunity as everybody else does," said Lula Gibson, another Vicco native.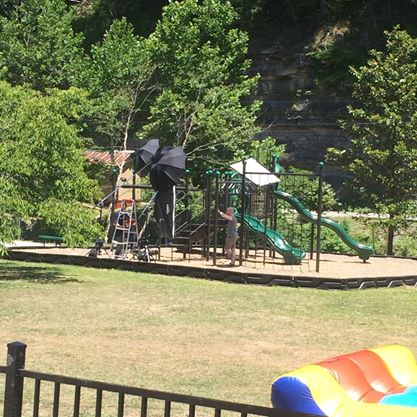 So Max Mutchnick and Erik Hyman decided to say thank you to Vicco.
Max:
"When I read about what was going on in Vicco to advance the cause of equality, I was very moved. I had to reach out to Mayor Cummings and find some way to show my gratitude to the community for such a brave action."
The way they found was to donate money to build Vicco a park - a playground and green space the entire town could enjoy.
Last weekend, the power couple and their two daughters traveled to Vicco to attend the dedication ceremony (Photo at the top of the page.) The park was officially named the Rose and Evan Playground after Max and Erik's daughters and bears a plaque that reads:
"Dedicated to the good people of Vicco, Kentucky for their efforts to end discrimination based on sexual orientation and gender identity. Built by a loving family of two dads and their daughters, Rose and Evan."
Well done, Vicco. And well done Max and Erik.