Watch: Outed And Ousted By His Principal, Here's Valedictorian Evan Young's Banned Graduation Speech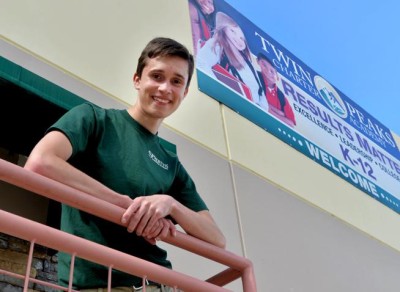 Eighteen-year old Evan Young, 2015 Valedictorian of Twin Peaks Charter School in Longmont, Colorado, was all set to deliver a graduation speech on the values of accepting one another. However, his school's principal refused after learning that Young is gay. He then outed him to his parents. On Sunday, Young delivered that speech to applause at an Out Boulder LGBT event, and it's brilliant.
Evan Young, whose admiration for satirist Stephen Colbert rung through his speech, managed to land the bulk of his written jokes in a speech that only a few weeks before had evoked retaliation from his school's principal, simply because Young had the courage to self-identify as gay.
Thankfully, Young got his very-well deserved if belated moment last Sunday. Democracy Now broadcasted Young's speech and anchor Amy Goodman briefly interviewed him on the circumstances around his speech and interactions with school Principal PJ Buchmann.
With a Twin Peaks Green cape draped playfully behind him, Young opened his remarks on the topic of dreams and mentioned two dreams he'd stuck with so far. "One, finish high school with perfect grades. And two, most importantly, wear a cape," Young joked with the comic flay of the cape. "And tonight, I accomplish both."
An audience of several hundred Boulder-area LGBT allies and area politicians laughed and applauded. That cape bit, it seemed to work on an ironically prescient level — almost like Young knew he'd be denied a valedictorian speech. After all, it's not so difficult to sense prejudice, and Twin Peaks Charter School didn't exactly roll out acceptance for its 2015 Valedictorian.
Here's Evan Young's speech and interview:
Read the full article, including a rough transcript of his speech here.
This article was reposted from The New Civil Rights Movement.