US Labor Secretary Tom Perez posts inspiring Pride Month blog about LGBT inclusion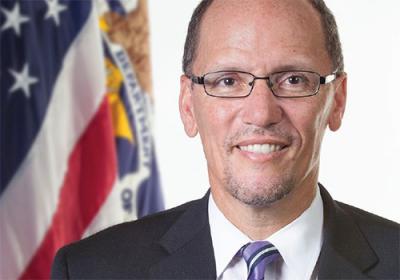 US Labor Secretary Tom Perez has penned a blog posting to coincide with the beginning of LGBT Pride month in the US.
In the piece, he talks about how the department are working to promote opportunities for all Americans, with an emphasis on recent advances for LGBT workers.
'Pride Month gives us an opportunity to recognize the impact that lesbian, gay, bisexual, and transgender Americans have had on our nation.
'Here at the U.S. Department of Labor, it's also a chance for us to recommit to our efforts to ensure equal rights for LGBT workers, and to celebrate the great work we've done on this front,' he begins.
'We have a responsibility to make sure that every worker has the same opportunity to pursue and realize their dreams, and we take that responsibility very seriously. And not just because it's the right thing to do, which it is. It's also the smart thing to do.
'Diverse and inclusive workplaces are productive workplaces. Our economy works best when we field a full team, so we can't afford to leave any talent on the bench.
'At DOL, our agencies are doing great work to advance the rights of LGBT workers. We've worked to implement the president's Executive Order on LGBT Workplace Discrimination, which prohibits federal contractors and subcontractors from discriminating on the basis of sexual orientation and gender identity.
- Read the full article here.
This article has been reposted from Gaystarnews.com.