U.S. Military Celebrating Gay Pride Month, Honors Lesbian, Gay, Bisexual, And Transgender Servicemembers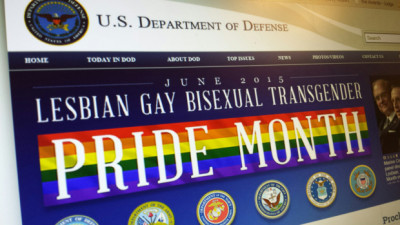 Maybe it's all about who is the current commander-in-chief. Maybe it resonates more because of Caitlyn Jenner's announcement this week. Maybe it's just the new "normal" for the Department of Defense, but this month the DoD is making it very clear to the American public that the military supports Lesbian, Gay, Bisexual, and Transgender Pride Month.
"We celebrate the proud legacy LGBT individuals have woven into the fabric of our Nation, we honor those who have fought to perfect our Union, and we continue our work to build a society where every child grows up knowing that their country supports them, is proud of them, and has a place for them exactly as they are," said President
Barack Obama announcing the celebration on the DoD website.
The previous "Don't Ask, Don't Tell" policy ended on September 20th, 2011. Just three years ago during Pride Month, the DoD quoted an anonymous servicemember about the repeal of that policy who said, "There was this feeling of relief [among gay troops] that not only do I now finally feel like a full-fledged citizen of this country – the country that I put my life on the line to defend more than once – but now I can do my job more efficiently
."
This year, the Defense Department sent out a news release to highlight their efforts as well, stating, "During this time, the department recognizes lesbian, gay and bisexual service members and lesbian, gay, bisexual and transgender civilians for their dedicated service to both the DoD mission and to our nation."
This article has been reposted from CBS San Francisco.