'Truth or Dare' Gives Gay Virginia Basketballer Perfect Coming-Out Moment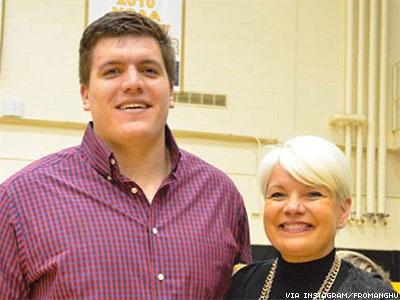 Normally, "truth or dare" is nothing more than an innocent game between elementary school kids. In the case of college basketball player Hunter Fromang, however, the simple game turned out to be a life-changing experience.
Fromang, a seven-foot center for Virginia's Randolph-Macon College basketball team, came out as gay just before his senior year in college to two close friends and a teammate, while playing a round of their favorite childhood game.
"We were sitting around playing 'truth or dare' when Akeem [Holmes, one of Fromang's teammates] asked if I had ever done anything with a guy before. I guess you don't ask that question without having some suspicion," Fromang wrote in an op-ed at Outsports. "I was somewhat comfortable with who I was at that point. ... So without much thought, my answer just slipped out before I could think about it. As soon as I told him, he jumped out of his seat and hugged me."
Fromang's earnest piece also reflected on growing up, always knowing he was a "little different" from his brother and his other male peers. He came out to himself in high school but continued to date girls in an effort to fit in. Instead, he focused his energy on excelling in swimming and basketball.
After that fateful game of "truth or dare," Fromang came out to the rest of his team, which is currently ranked number 1 in NCAA Division III basketball. His teammates and his roommates were universally accepting, he said. On New Year's Eve, he introduced everyone close to him to his boyfriend Joseph, a senior at Virginia Tech.
"If someone had told me as a freshman that this was going to be how it all played out, I would have never believed them," wrote Fromang. "My only regret is that I didn't come out to people sooner."
This has been reposted from The Advocate.