The U.S. Ambassador To Denmark Commits An Act Of Kindness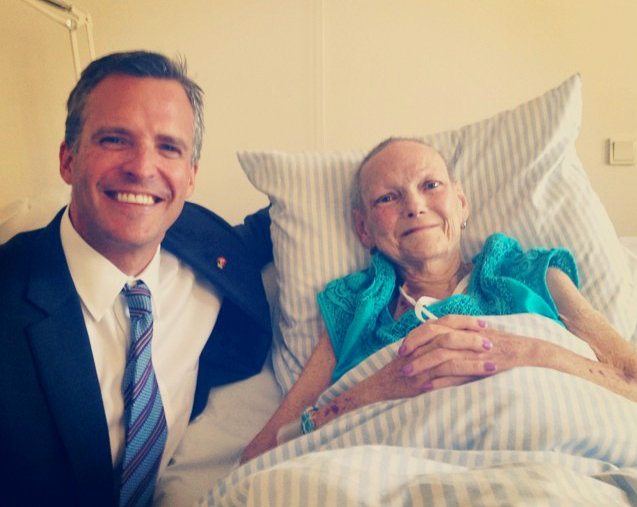 Our dashing gay Ambassador to Denmark, Rufus Gifford, went beyond his diplomatic duties this weekend when he stopped by a Danish hospice to meet a "fan".
The Human Rights Campaign reported that this photo went viral last weekend, after Rufus Gifford, one of the first gay men to serve as a U.S. Ambassador, and an HRC member, posted it on his Facebook page with the comment:
"I got a message earlier this week about a woman named Lisbeth who is in hospice care. She had a picture of me on the wall of her room. She told people that my smile made her happy so she cut the photo out of a magazine article. I heard she liked roses so I brought her some from my garden. Lisbeth: your smile and your laugh are better than mine and your strength and courage are an inspiration. So happy to have met you."
The Washington Post reports Lisbeth was a complete stranger to the ambassador, but that her friend, Maria Clausen, who knew of her interest, reached out to Ambassador Gifford who responded with a visit. The ambassador said he was surprised by all the attention, telling the Post:
"Frankly, I didn't anticipate the response! Was the least I could do..."
This has been reposted from The New Civil Rights Movement.