The Flash Casts Bi Actor to Play Gay DC Comics Villain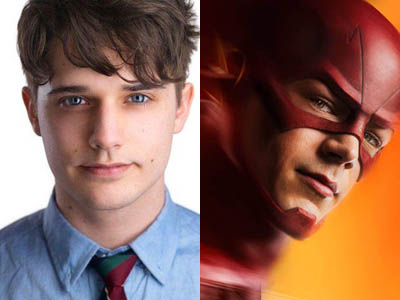 Smash alum Andy Mientus has been pegged to play the part of The Flash's hearing- impaired and openly gay villain Hartley Rathaway, a.k.a. the Pied Piper, reports TV Line.
A member of the Scarlet Speedster's original rogues gallery, Rathaway has worked on both sides of the law throughout his comic book history as both the sonic weapon-wielding villain Pied Piper and as a reformed friend and sometimes assistant to the Flash.
In the new series, Rathaway is a former S.T.A.R. Labs employee who left the company after a falling-out with his mentor, Harrison Wells (played by Tom Cavanagh). When the same particle accelerator that gave Barry Allen (Grant Gustin) his powers robs Rathaway of his hearing, he creates a series of sonic weapons and sets his sights on destroying his former mentor's new protégé, the Flash.
Rathaway is not only one of the first out gay characters to appear in the pages of a DC Comic, he is also one of the first gay male characters to appear on any mainstream superhero TV series — along with out CCPD director David Singh (played by Patrick Sabongui).
Mientus, who is bisexual and engaged to Broadway actor Michael Arden, is one of three recently announced out LGBT actors to be cast on the CW's small-screen adventures of DC's fastest man alive.
Gay actor Victor Garber (Alias) will be teaming up with Robbie Amell as the heroic duo who combine to create Firestorm: The Nuclear Man later this season.
Also, Wentworth Miller — who came out publicly in August last year to protest Russia's treatment of LGBT people after he had been invited to a film festival in the country — will be sending a chill down the spine of the Scarlet Speedster when he appears as the villainous Captain Cold in an upcoming episode.
Catch the latest trailer, which includes a preview of Miller as Cold, in the video below.
This has been reposted from The Advocate.