Ted Osius III becomes first openly gay U.S. ambassador to East Asia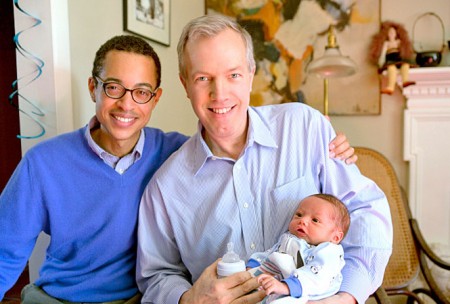 Ted Osius III was sworn in Wednesday as the U.S. Ambassador to Vietnam, becoming the first openly gay U.S. ambassador to serve in East Asia.
U.S. Secretary of State John Kerry officiated the ceremony, making Osius the seventh openly LGBT person named as an ambassador under the Obama administration, and the sixth in active service.
"Not long ago, that would have literally been impossible. And when Ted first joined the Foreign Service, being open about who you love was grounds for having your security clearance yanked," Secretary Kerry said in a statement. "Today, the LGBT community is embraced by the Foreign Service and well beyond."
Osius was joined at the ceremony by his husband, Clayton Bond, who is also a Foreign Service officer, and the couple's 11-month-old son, Tabo.
Osius, a career member of the Foreign Service, Class of Minister-Counselor, is an Associate Professor at the National War College, a position he has held since 2013. He was a Senior Fellow at the Center for Strategic and International Studies from 2012 to 2013.
Prior to that, Osius served as Deputy Chief of Mission at the U.S. Embassy in Jakarta, Indonesia, from 2009 to 2012. Before that, he was Political Minister-Counselor at the U.S. Embassy in New Delhi, India from 2006 to 2009.
Osius also served as Deputy Director of the Office of Korean Affairs in the Bureau of East Asian and Pacific Affairs at the Department of State from 2004 to 2006.
From 1998 to 2001, Osius served as senior adviser for international affairs to Vice President Al Gore.
The other openly LGBT diplomats in active service are: David Huebner (U.S. Ambassador to New Zealand and Samoa), John Berry (Australia), James Costos (Spain), Rufus Gifford (Denmark) and Daniel Baer (Organization for Security and Cooperation in Europe). Richard Hoagland was the U.S. ambassador to Kazakhstan from 2009-2011.
This has been reposted from LGBTQ Nation.