Supermodel Patricia Velasquez Opens Up About Sexuality & Relationship with Sandra Bernhard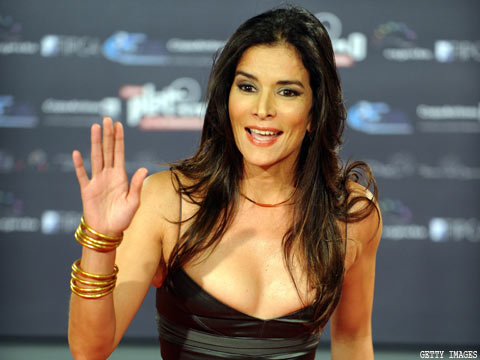 "The world's first Latina supermodel" Patricia Velasquez wants to set a few things straight - or rather, just the opposite. In her new memoir Straight Walk, Velasquez, who starred as Marina's big screen alter ego Karina on The L Word, goes into great detail about her life growing up in Venezuela, her time in the intensely challenging South American beauty pageant scene, and one other detail she hasn't touched on much in the past - her relationship with comedian Sandra Bernhard that made Velasquez realize she is a lesbian, according to the New York Post, which pulled quotes from Patricia's memoir that is embargoed until Feb. 10.
After being discovered by a local hairdresser as a teenager, Velasquez was chosen to compete in the 1989 Miss Venezuela pageant, according to her book. The glamorous competition came at a price that included drastic dieting, cosemtic surgery, and sleeping with a man who would pay for her expenses. She placed second in the pageant and her modeling career took off with stints in Sport's Illustrated Swimsuit Issue, Victoria's Secret, and even an acting turn in The Mummy franchise.
All of her success led to meeting Sandra Bernhard backstage at a fashion show, and the two connected immediately. "I'd never kissed a girl," Velasquez details in her memoir, but after hooking up with Bernhard, everything changed. Despite trying to sleep with men again, Velasquez soon found herself exclusively dating Bernhard. She writes, "I was deeply in love with Sandra...in a way I'd never experienced before."
Bernhard - whose friend circle included Madonna, Ingrid Casares, and Chris Paciello - introduced Velasquez to the downtown New York fashion scene and designer Isaac Mazrahi. Though Velasquez doesn't go into much more detail on the relationship, she does write, "I cried for two years over Sandra," about its end. Velasquez has since come out to her supportive family, but believes it is important to publically discuss her sexulity in her memoir, as she says that prejudice remains in the Latin community. As Velasquez states, "I want to at least start a dialogue. The tide is changing."
This has been reposted from SheWired.