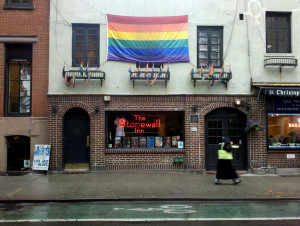 Following a public hearing, the historic Stonewall Inn has officially been declared a landmark in New York City. The bar, which is located in Greenwich Village, is often viewed as being synonymous with the modern gay rights movement. This is the first time that any landmark in New York City has been declared so because of a significance with LGBT history.
The vote, which was unanimous, was seen as important because of the events that transpired there over 40 years ago, which lead to the modern pride events that take place in New York and around the globe even today. "The commission's chairwoman, Meenakshi Srinivasan, called the Stonewall events a turning point in the LGBT rights movement and in the nation's history."
The designation means that the building is now protected from being changed or altered. The building itself, which had quite a history, including speculated mafia ties, was raided in 1969 for suspicion of bootleg alcohol. This raid spurned the uprising which would eventually become the start of the modern LGBT rights movement. It is now home to a nail salon and a smaller bar, stilled named Stonewall Inn, which are both part of the building which has been named as an official landmark.
Information for this article was sourced from The Advocate.