Sky Sports reporter Mark McAdam comes out as gay: 'I just wanted to be true to myself'
Says he doesn't know any other sports correspondents who are gay
BY GREG HERNANDEZ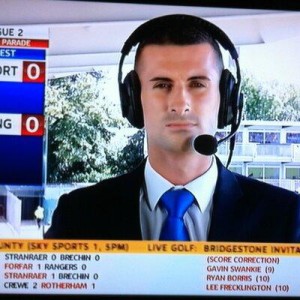 Longtime Sky Sports correspondent Mark McAdam has come out publicly as gay and is thanking his followers on Twitter for their support.
'Already received so many unbelievable msgs, I just wanted to be true to myself,' he tweeted this week.
McAdam, who has been with Sky Sports for seven years, first went public in an interview with Gay Times magazine.
He said he had been badly bullied in school and that 'I battled with my sexuality for years and years. ... Only gay people will ever understand the trauma you go through about accepting your sexuality.'
McAdam, so far, is carrying the torch for openly gay sports reporters on television.
'I don't know of any other gay sports reporters,' he says. 'There's nothing to compare this to.'
But he wants to make clear he is just like his straight colleagues in most other ways: 'I love football, just the same as any straight guy. I watch football, I watch the darts, I sit around and scratch my bollocks and piss on the toilet seat. And I'm gay.'
This article was reposted from Gay Star News.