Senate Confirms Married Gay Diplomat To Be Ambassador To Vietnam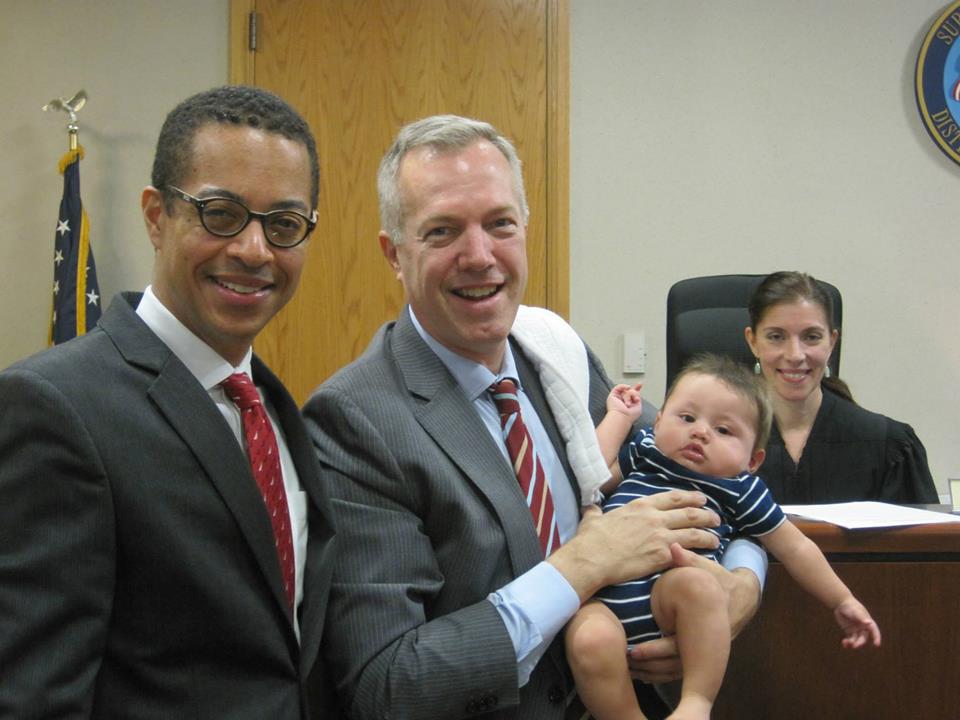 The U.S. Senate has confirmed Ted Osius, a married gay man with an infant son, to be ambassador to Vietnam, where same-sex marriage is not legal.
"This is a dream come true for me," said Ted Osius when President Obama announced his nomination last May. On Monday, those words finally became a reality.
On a voice vote, the senate confirmed the nomination of Ted Osius to be our next ambassador to Vietnam. Ambassador Osius is openly gay, married to Clayton Bond, an officer at the State Department's Bureau of African Affairs, and the couple recently adopted an infant they named Tabo. (That's them in the photo above, with the ambassador holding baby Tabo.) The confirmation officially makes Ted Osius the seventh LGBT diplomat to be awarded an ambassadorship by President Obama.
Ambassador Osius is well suited to the post, having served in Indonesia, India, Thailand, the Philippines and Vietnam over the last twenty-five years. He speaks fluent Vietnamese and was among the first diplomats in Hanoi after the Vietnam War, helping to open the U.S. consulate in Ho Chi Minh City.
Same-sex marriages are not recognized in Vietnam, but attitudes are in flux. In April of 2013, Vietnam's health minister recommended gay marriage be legalized, and the U.S. State Department has been taking advantage of evolving social views, pressing a campaign to promote the acceptance of LGBT rights in the region. The U.S. embassy in Hanoi has, in the past, openly supported the Viet Pride Festival and has played host to the annual ASEAN Pride music festival and the very first Laos Pridefest.
Ambassador Osius has promised to continue that mission, saying:
"I will say that when Vietnam's government respects human rights it will grow stronger, not weaker, and our partnership's potential will grow as well. I will press the government to protect universal human rights - so that Vietnam can fully integrate with the world community."
Four other ambassadors were also confirmed Monday on a voice vote.
This has been reposted from The New Civil Rights Movement.