Robbie Rogers wins first MLS cup as an openly gay soccer pro with LA Galaxy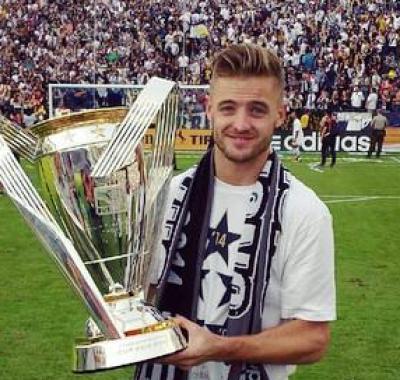 Robbie Rogers celebrated with his Los Angeles Galaxy teammates on Sunday (7 December) as the team won the MLS Cup over the New England Revolution in the 2-1 thriller.
Altnough Rogers was part of an MLS Cup winning team in 2008 when he played for Columbus Crew, this is his first title as the league's only openly gay player.
'This MLS Cup is for so many people. My teammates, family and friends, the fans obviously and for everyone that thought it would never be possible,' Rogers wrote on Facebook after the victory.
Rogers, 27, began playing with the Galaxy in May 2013. He had briefly retired from pro soccer after coming out publicly but has since become a high-profile openly gay athlete and recently signed a two-year contract extension with the team.
Rogers spoke with Gay Star News last month about playing for Galaxy.
'Just as a soccer player, without all that other stuff, it just feels good to contribute on the field and to be part of a successful team,' he said. 'It just reminds me that I'm a soccer player and because of the stuff I've shown on the field, they want to keep me part of the team.
'I'm happy that they're happy and I'm excited to stay with the Galaxy for two years.'
While it has been a struggle for openly gay football player Michael Sam to find a place to play in the NFL, Rogers and his teammates have been quietly proving what a non-issue being gay in the MLS has turned out to be.
'I like quietly being part of the Galaxy and being just one of the guys. I realize there is a role I play in the LGBT community and being a role model – especially with our youth – which I enjoy as well. But I very much enjoy playing soccer.'
This has been reposted from Gay Star News.