Queer As Punk: 11 Queer Icons Of Punk Rock
The Grammys are February 8, and while LGBT artists have always been well-represented in music, there are some genres that don't get their due. Take punk rock—born out of 1970s teen angst, it combined music with politics, anger and music in a way the world had never seen before. And, naturally, us gays were there.
Below, we celebrate 11 queers (and queer-adjacents) who helped mold the punk-rock genre.
Let's get to it; oi oi oi!
1. Darby Crash of the Germs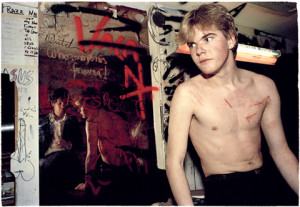 Along with longtime friend Pat Smear, Crash (born Jan Paul Beahm) founded the seminal L.A. punk band The Germs, which they originally called "Sophistifuck and the Revlon Spam Queens." Crash kept his sexuality a closely guarded secret before his very-punk-rock death at age 22 from an intentional heroine overdose.
2. Peter Shelly of the Buzzcocks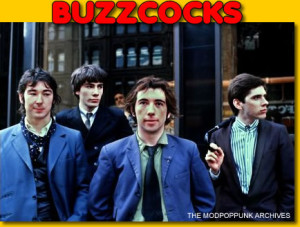 Formed in 1976, the Buzzcocks married the raw punk energy of the Sex Pistols with a more pop-friendly artisanship. Their breakout hit, "Ever Fallen In Love With Someone (You Shouldn't've Fallen In Love With)?" could easily be an allusion to Shelly's bisexuality. His 1981 solo dance hit, "Homosapien" was banned by the BBC for "explicit reference to gay sex" but charted on U.S. and international dance charts.
3. Iggy Pop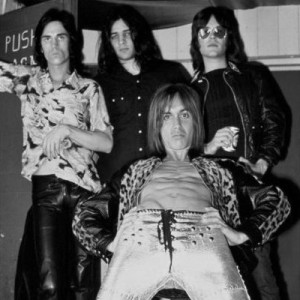 Melding punk, glam and pop music, Iggy Pop was a fireball of pure sexual energy that transfixed men and women alike. His rumored affair with David Bowie's lover when the two collaborated in the 1960s was dramatized by Todd Haynes in the glam-rock drama Velvet Goldmine. Foo Fighters drummer Taylor Hawkins portrays Iggy Pop in CBGB.
4. Divine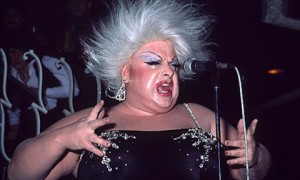 Best known as John Waters' muse in films like Pink Flamingos and Female Trouble, Divine also had a successful music career with disco-punk hits like "You Think You're A Man" and "Shoot Your Shot." We're also gonna say Divine's songs with the Cockettes were pretty punk-rock, too—including surrealist jams like "A Crab On Your Anus Means You're Loved" and "The Hearbreak of Psoriasis".
5. Kaia Wilson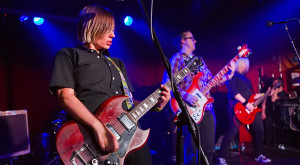 Seminal dyke-rocker Kaia Wilson fronted two legendary bands, Team Dresch and The Butchies, and helped usher in a brand of lesbian-powered music that was about as far from the Indigo Girls as you could get. (Though Wilson has toured with Amy Ray.)
Team Dresch's debut album, Personal Best, was a favorite of ours. The Butchies, which also included bassist Alison Martlew, and drummer Melissa York, were part of the iconic, yet sadly defunct queercore label Mr. Lady.
6. The Mumps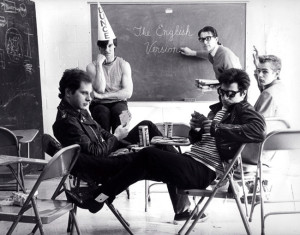 Lance Loud first came into the spotlight as the openly gay son in An American Family, the U.S.'s first real attempt at reality TV. He later formed the Mumps with gay high-school friend Kristian Hoffman (who also appeared in An American Family) Rob Duprey (who later played with Iggy Pop) Jay Dee Daugherty (later of the Patti Smith Group and The Church) and Aaron Kiley.
Like other popular punk acts, the Mumps played CBGB and Max's Kansas City, opening for bands like the Ramones, Blondie and Television. Loud passed away at age 50 in 2001 from complications from AIDS and hepatitis.
7. Pansy Division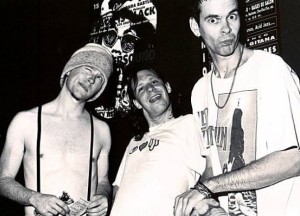 Formed in 1991 by bassist Chris Freeman and singer Jon Ginoli, Pansy Division was unapologetically gay (even the band's name was a pun on the german Panzer Division) and shared the stage with post-punk acts like Green Day, Rancid and Jimmy Eat World. Pansy Division's 2009 album, That's So Gay, playfully addressed the rampant homophobia of both the mainstream and underground world.
8. Martin Sorrondeguy of Limp Wrist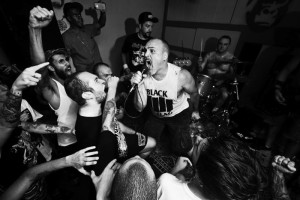 Singer of queercore band Limp Wrist and hardcore band Los Crudos, Martin Sorrondeguy is legit old-school DIY and a prominent figure of the Straight Edge scene. From the sound of his music, it seems like he can probably beat us all up. Which is exactly what I want in my bad-ass queers.
9. Jayne County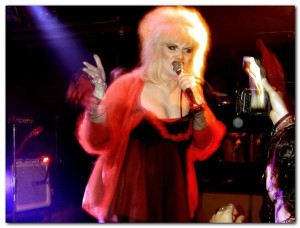 Formerly known as Wayne County, Jayne is considered the first transexual rock icon. A former Warhol superstar, County formed Wayne County and the Backstreet Boys in 1974, playing CBGB and Max's Kansas City. In 1976, she appeared in The Blank Generation, which helped define the punk rock movement. Still performing today, County is known for speaking in tongues—most recently she proclaims "Satan is a biscuit!" on Sharon Needles' ode to the dark lord, "Hail Satan." Caleb McCotter plays Wayne County in CBGB.
10. Billie Joe Armstrong of Green Day
Armstrong and his pop-punk band Green Day hit the big time with 1994′s Dookie. The following year, in an interview with the Advocate, Armstrong came out as bi:
"I think I've always been bisexual. I mean, it's something that I've always been interested in. I think people are born bisexual, and it's just that our parents and society kind of veer us off into this feeling of 'Oh, I can't.' They say it's taboo. It's ingrained in our heads that it's bad, when it's not bad at all. It's a very beautiful thing."
11. Laura Jane Grace of Against Me!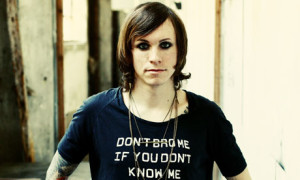 Florida punk act Against Me! was formed by Thomas Gabel in 1997, and had breakthrough success with New Wave in 2007 and White Crosses in 2010. In 2012, Gabel came out as trans and took the name Laura Jane Grace. She addressed issues involving gender transition, bigotry and depression in the autobiographical track "Transgender Dysphoria Blues."
This has been reposted from NewNowNext.