Prominent Church of England Activist Comes Out as Lesbian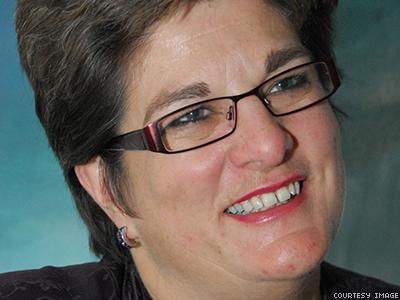 One of the leading members of Church of England's evangelical wing has come out as a lesbian, after a struggle to reconcile her faith and identity that took her through exorcism attempts, thoughts of suicide, and a mental breakdown.
Jayne Ozanne, 46, a lay activist and former member of the church governing body known as the Archbishops' Council, came out publicly in an interview published Monday by the website Christian Today. She had been out to a few church leaders previously.
Also Monday, she was named director of Accepting Evangelicals, a group that advocates for LGBT equality within evangelical Christianity. Ozanne has had a distinguished career in the nonprofit and corporate worlds, setting up charities, working with former Prime Minister Tony Blair's Faith Foundation, and holding marketing positions for the BBC and Procter & Gamble.
Ozanne told Christian Today she had tried to reconcile her religious faith and her sexuality for many years, and even went through "deliverance ministry," a version of "ex-gay" therapy in which clergy members tried to "cast out" her sexuality. It was "trying to cast out myself from myself," she told the site. "Nothing was going to budge." Still, she felt there was "something terribly wrong" with her. She then prayed for the strength to be celibate, but found that a lonely path. Eventually she had a relationship with a woman for several years, but she is now single.
She also considered suicide, the site reports, quoting a letter she wrote five years ago: "Some may remember that I ended Synod's first debate on homosexuality by reading a draft suicide note written by someone struggling with their desire for love, but knowing that the only thing that could satisfy this hunger was 'forbidden fruit.' The letter was my own, written during this time of pain — a cry from the created to the Creator, asking why I had been created with such a cruel dichotomy." She had an emotional breakdown, and a therapist advised her to try a different religion.
Now Ozanne, who said she was inspired by evangelical Christian musician Vicky Beeching's coming-out last year, is trying to change her church from within. The Church of England is the "mother church" of the worldwide Anglican Communion, but it is more conservative on homosexuality than the communion's U.S. branch, the Episcopal Church. The Church of England does not reject LGBT members, but teaches that heterosexual marriage is the only proper context for sexual activity, whereas the Episcopal Church allows clergy to be in same-sex relationships and blesses these unions for members. A couple of priests in the Church of England have defied their leadership by marrying same-sex partners, and the church's debate over homosexuality continues.
The term "evangelical" means something slightly different within the Church of England, and the U.K. generally, than it does in American Christianity. In both, it emphasizes personal conversion to a belief in Jesus Christ. In the U.S., evangelicalism sometimes goes hand-in-hand with a belief in the literal truth of the Bible, known as fundamentalism and usually associated with antigay attitudes. Church of England evangelicals include both conservatives, who argue for biblical literalism, and liberals, who believe the Bible is sometimes allegorical and also must be read in its historical context. Evangelicals in the Church of England emphasize personal faith over ritual and the church's Protestant identity over its Catholic roots (the church originated in King Henry VIII's split with Roman Catholicism in the 16th century).
This has been reposted from The Advocate.