The following is reposted from The New Civil Rights Movement.
President Obama Surprises Gay Bishop With An Invitation To Lead A Prayer
[Sunday] was the Easter Prayer Breakfast at the White House, where politicians and clergy gather to mark the beginning of Holy Week, and annoy those of us who believe religion and politics should be kept on separate shelves.
In attendance this year was Bishop Gene Robinson, who in 2003 made history by becoming the first gay Anglican bishop in the U.S. Bishop Robinson tweeted the [below] photo of himself seated with Valerie Jarrett and MSNBC's Al Sharpton as they listen to the president speak: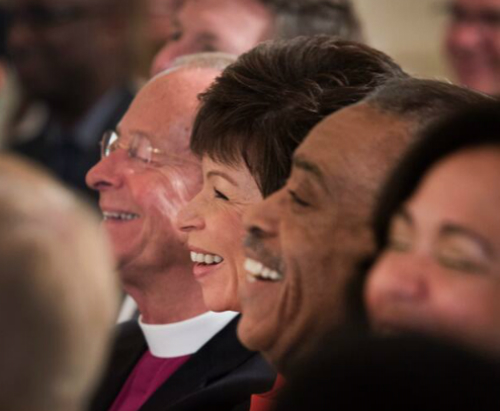 The President closed with a prayer:
"Lord fill my mouth with worthwhile stuff and nudge me when I've said enough."
And then he surprised Bishop Robinson by inviting him to give the closing prayer, something the bishop was not expecting. The bishop rose to the occasion, becoming the first gay clergy member to pray at a White House Easter Prayer Breakfast. He later tweeted about the experience:
"At the end of program, The President asked me to close the gathering with prayer — totally off the cuff! OMG! A faith pop-quiz! #honored"