Poised for Perfection: Sgt. Shane Ortega Puts a Face to the Transgender Military Ban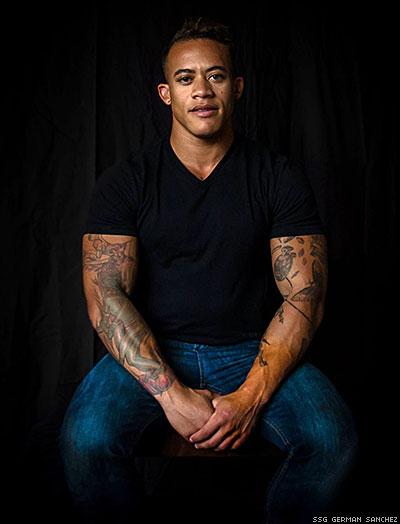 Sgt. Shane Ortega tells The Advocate how he's been able to serve for years in the U.S. Army as an openly transgender man and about the pressure he faces now that the world knows who he is.
Sgt. Shane Ortega wakes up and shuts off his alarm clock at the same time every workday morning. The right time.
He showers, stops in front of the mirror, carefully scrapes away the faintest hint of stubble from his cheeks. He moves to his bedroom, donning his crisp office clothes just so. He's out the door, right on time, headed to the Oahu military office where he's been doing human resources work ever since he was grounded — temporarily, he intends — from flight last summer.
Sgt. Ortega is never late. He is never rumpled. He never has an "off" day. And he makes sure of it, because he's one of the first openly transgender people in the U.S. military, and he knows the world is scrutinizing him.
"Honestly, I have to be perfect right now," the 28-year-old Army helicopter crew chief tells The Advocate over the phone from Wheeler Army Air Field. He follows his words with a light laugh that will be repeated many times over the next 40 minutes, one that seems to dissolve clouds of self-pity before they can gather. "Like, I couldn't get a speeding ticket. I can't be late. I can't forget to shave one day of the week. I have to be absolutely perfect."
And then, instead of resting, Ortega spends most of his lunch break talking about living a life that has become more than his own.
"I don't think anyone really understands the level of perfection that I have to have right now that I stepped forward," he admits. "But I understood the weight of the matter. It was part of what I juggled in my judgment before I decided to do that. And it's really uncomfortable, to be honest. But if I don't do it, it doesn't help anyone else."
He's referring to people like the field grade officer who, he shares, privately sought him out after over a decade of service to tell him that they were transgender and had not felt able to come out. "It's like, what can I do?" Ortega wonders aloud. "I can stick my neck out further."
Last month Ortega stuck his neck out when he stepped into the national spotlight in a Washington Post article on the U.S. military's continued policy against service by transgender people, becoming the institution's most publicly visible active-duty trans soldier.
Read the rest of the story here.
This has been reposted from The Advocate.