The following is reposted from Freedom to Marry.
PHOTOS: Same-sex spouses are finally respected by the U.S. military
By Adam Polaski September 03, 2013
Today, September 3, 2013, the same-sex spouses of U.S. service members finally became eligible for the legal respect and protections that marriage extends to the spouses of all other members of the U.S. military. It's the latest victory in the implementation of the repeal of the central part of the so-called Defense of Marriage Act, which for 16 years deprived legally married same-sex couples of more than 1,100 protections and responsibilities of marriage.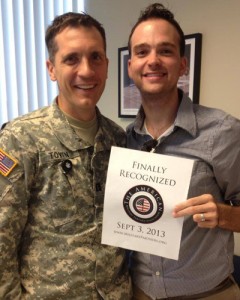 Earlier this month, Secretary of Defense Chuck Hagel announced the news, saying: "It is now the department's policy to treat all married military personnel equally." The new policy allows unmarried gay and lesbian servicemembers living in states without the freedom to marry up to ten days of leave so that they can travel to marriage states or the District of Columbia and legally wed their partner.
Freedom to Marry's National Campaign Director Marc Solomon praised the Defense Department for the decision while acknowledging the need for the freedom to marry across the country, saying, "We applaud the Defense Department for acting swiftly and doing all within its power to ensure that married gay and lesbian service members are treated equally. The fact that same-sex couples who are serving at military bases throughout the country must in many cases travel hundreds if not thousands of miles to get married and be treated as equals by the Pentagon highlights the need to move quickly to national resolution, with the freedom to marry guaranteed to loving and committed couples nationwide."
The American Military Partner Association and OutServe-SLDN are celebrating the Day of Recognition today by encouraging their members to send photos of military spouses getting their ID cards. Learn more about the process of being respected as a spouse HERE. Check out photos of spouses receiving their military ID cards for the first time:Click here to view the photos