Out Model Ruby Rose Is the Newest Inmate on the Orange Is the New Black Cell Block!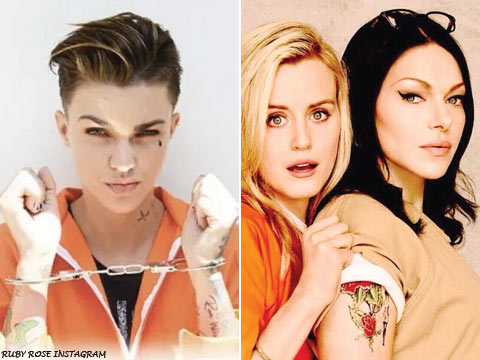 This is some pretty terrific news thanks to a little snippet in Elle mag. Out DJ and model Ruby Rose is slated to guest star on Orange Is the New Black's 3rd, according to Buzzfeed.
But that's not all! Apparently her character will be the apple of both Piper's and Alex's eyes!
The Elle article reads, "Ruby Rose, 28, oozes raw sex appeal even in an orange jumpsuit, as the newest inmate – and lust object of both Piper and Alex – at Litchfield Penitentiary on this summer's third season of Orange Is the New Black."
Buzzfeed went on to write that the whole sex object thing can not be confirmed, but we are going to choose to believe that it's real, because let's be honest, Ruby Rose is just plain stunning and hotter than hell. It's totally plausible. We would just like to say, "Dear OITNB Writer's Room, There's no reason she would have to choose."
Netflix did confirm to Buzzfeed however that Rose will play Stella Carlin, "an inmate at Litchfield Federal Correctional Institution whose sarcastic sense of humor and captivating looks quickly draw the attention of some of Litchfield's inmates."
No matter which way one looks at it, this is excellent casting. Brava OITNB!
This has been reposted from SheWired.