Out Country Singer Chely Wright Scores Kickstarter Fundraiser Record for New Album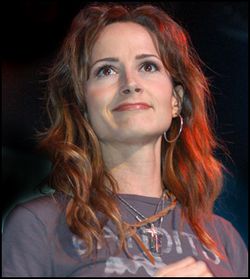 Out country singer-songwriter Chely Wright has broken Kickstarter records in funding her new album, reports Rolling Stone.
The 45-day campaign - the sixth most successful Kickstarter music campaign and the number one campaign in country music - raised $250,000, which will allow Wright to record and promote the album and to produce a music video.
Born in Missouri, Wright came out in 2010. In the same year she published an autobiography and released a critically-acclaimed documentary about her coming-out process. She married Sony Music Entertainment's Director of Marketing, Lauren Blitzer the following year and gave birth to their twin sons in 2013.
Wright knew that after coming out she would lose old fans and gain news, but she says that she was "reduced to tears on a daily basis" by the number of private notes she received thanking her for the support her book and film had offered them in their own coming-out experiences.
With about half of the record already written, Wright looking at mid-2015 as a potential release date for the new project.
Watch the official video for Chely Wright's 1999 country chart number one 'Single White Female.'
This has been reposted from Towleroad.