The following is reposted from Towleroad.
Out British Singer Sam Smith Gives Revealing Interview on Being Gay, Famous, and Single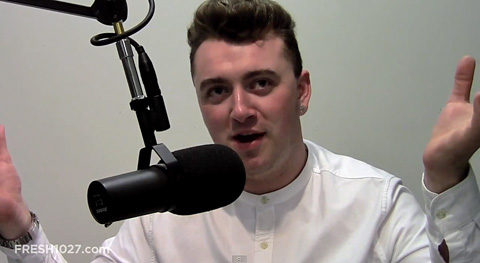 Out British singer Sam Smith, whose album In The Lonely Hour is breaking records, stopped by New York's Fresh 102.7 for a lengthy interview on all kinds of topics, from Gay Pride to Speedos.
Smith tells the hosts that Mary J. Blige and Robyn are the favorite celebs he has met, and he used to sing Norah Jones and Chaka Khan in the car when he was younger. He offers the reasons for his high hair, and wonders why people start giving you things as you become more successful. Smith says he smells dead people in thrift shops, and says that Saturday Night Live changed his life. He also says he pays no attention to internet trolls, and has never having been in a relationship.
With NYC Pride coming up, the hosts asked him about being gay and the advice he would give to someone thinking about coming out. Said Smith:
"Just be yourself and don't make [your sexuality] an issue. If other's around you are making an issue, I understand. Fight for your rights, of course. But, also. Let's make it a normality. To make it equal we kind of need to act equal if you know what I mean...The world is getting better in some places. It's getting worse in some places, but everyone needs to just focus on themselves as individuals and do what makes them happy. And be brave. Listen to my record, it will help (laughs)."
Smith also gives his thoughts on Speedos, facial hair, drunk texting, the World Cup, socks and sandals, one night stands, and feet.