Openly Gay CEO Sets Milestone as Bank Goes Public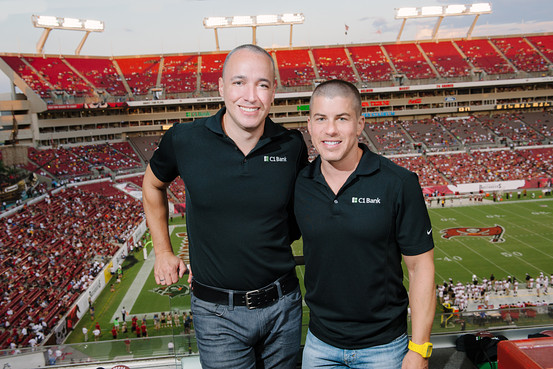 Buried in pages of technical jargon outlining C1 Financial Inc.'s plans to go public is one word that chief executive Trevor Burgess finds particularly gratifying: "spouse."
Burgess became a Wall Street rarity when his Florida bank debuted on the stock exchange Thursday: an openly gay CEO of a publicly traded company.
Jason Grenfell-Gardner is the openly gay CEO of IGI Laboratories Inc., a publicly traded pharmaceutical company based in New Jersey. And PlanetOut Inc., a media and entertainment company, was public for a few years beginning in 2004 with an openly gay chief, said Todd Sears, founder of Out on the Street, an LGBT leadership organization. But openly gay executives are still relatively rare in the corporate world. Even younger workers often hide their sexuality when embarking on their careers.
In the S-1 form that C1 had to file in preparation for the IPO, Burgess disclosed that his husband, Gary Hess, holds shares in the company – a line that wouldn't have been necessary before last year's Supreme Court decision extending federal benefits to same-sex couples, he said.
Burgess said he's happy to mark the milestone but also "a little bit sad" to have so little company.
There are no openly gay CEOs in the Fortune FT.T +3.57% 1000, said Deena Fidas, director of the Human Rights Campaign's workplace equality program.
"I'm excited that there will be at least one example for people," Burgess said. "We've got good examples for basketball players, arts, football, but where's Wall Street?"
Sears said he hopes Burgess' milestone might give other leaders "a little kick to be more visible if they can." Both he and Burgess said they believe executives who are currently hiding their sexuality might go public in the next few years. But arguably more monumental, they said, will be when LGBT workers who have always been open ascend to the top post in their companies. Such a move would show that the leaders were judged on their results, not their sexuality, Sears and Burgess said.
Burgess said he's been open about his sexuality for his entire career, which included 10 years at Morgan Stanley asMS +0.37% an investment banker. He recalled a few instances in which clients made comments against homosexuality but said in general his personal life hasn't been an issue at work.
"At the end of the day, I think that my clients and my colleagues really appreciated me for who I was and the fact that I was good and being good mattered more than anything else," he said.
Still, he remembers the loneliness that came with pursuing a career in business as a gay man.
"Looking for mentors, looking for examples, looking for someone who was like me and coming up blank was pretty stark and a bit sad and scary," he said.
At a recent awards ceremony for top entrepreneurs, he looked around and realized that out of the about 200 CEOs assembled, he was the only one attending with a same-sex partner.
"How could I be the only one?" he wondered. "It just sort of defied logic."
This has been reposted from The Wall Street Journal.