The following is reposted from SheWired.
Ontario's First Female Premier Is Also a Lesbian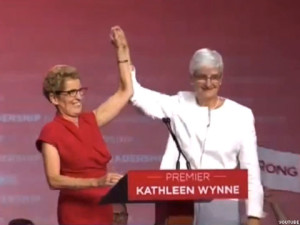 Last night, voters in Ontario, Canada, handed a decisive electoral victory to their province's Liberal party, which happens to be headed by Kathleen Wynne. The election not only brought Wynne's Liberals a majority stake in provincial government, but it also marks the first time a woman, let alone a lesbian, has served as the head of Ontario's government, according to the Toronto Sun. (Technically speaking, Wynne earned that distinction last February when she assumed first assumed the office of premier, but it's obviously a bigger deal now that her party will be running the show in Ontario.)
In a joyful victory speech — during which she brought her wife on-stage and thanked her for her ongoing support — Wynne spoke optimistically about the change that's about to come to Ontario.
But first, she walked on stage to the sound of Katy Perry's "Roar." Like the fierce woman that she is.
"We're going to all work together, across Ontario, to make this the best place to live. To make this a better place to live, and work, and raise a family… We need all hands on deck."
Watch Wynne's victory speech below, and try not to get too depressed that she sounds more progressive than basically anyone in Washington.