The latest Randstad Workmonitor survey has explored global attitudes to sexual orientation diversity in the workplace.
One of the questions asked employees in 34 countries whether they had any transgender work colleagues.
On average, 26% of those polled said that they had one (or more) transgender colleagues. This figure rose to 45% in Greece, 46% in Brazil and 50% in India.
At the bottom of the table – with the lowest number reporting transgender colleagues – were New Zealand (17%), Czech Republic (16%) and Hungary (14%).
In the US, 29% of those polled said they had a transgender work colleague, while the figure was 26% in the UK.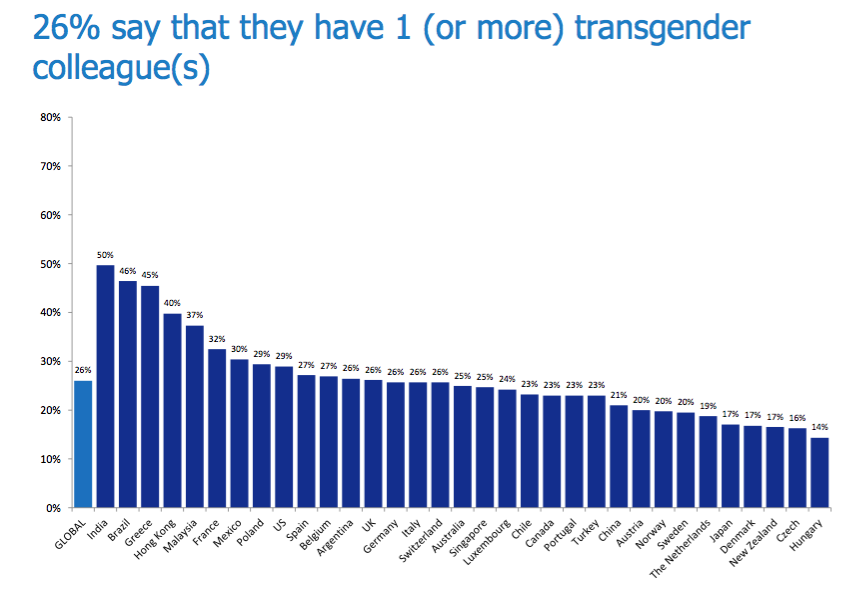 Commenting on the findings, Kimberley Bird, co-chair of trans professional network Trans*formation, told Gay Star Business: 'Visible transgender colleagues are becoming more prevalent in the workplace, yet the policies and benefits of these organisations do not support trans colleagues.
'In many instances the healthcare benefits are actively discriminatory, with cover for people with trans related healthcare issues being excluded. We know of no organisation in the UK whose private healthcare benefits cover the needs of trans people.'
Helen Belcher, of Trans Media Watch said, 'Trans issues have been treated as marginal and unimportant for years. I've been saying for a long time that trans issues don't just affect the trans person, but their families, friends and work colleagues also.
'The fact that at least one in four people works with a known trans person shows the importance of investing in proper training and developing good policies in this area.'
The survey also asked employees in 34 countries whether they agreed with the statement: 'Sexual orientation is not an issue' at their work.
On average, 76% of those polled agreed with the statement. The countries that came out top were Norway (88%), Spain (88%), and Canada (86%). The US came 14th on the table (with 81%), followed by the UK at 18th position (79%).
The countries where most employees disagreed with the statement – and where sexual orientation is presumably a greater workplace issue – were China (59%), Japan (47%) and Turkey (43%).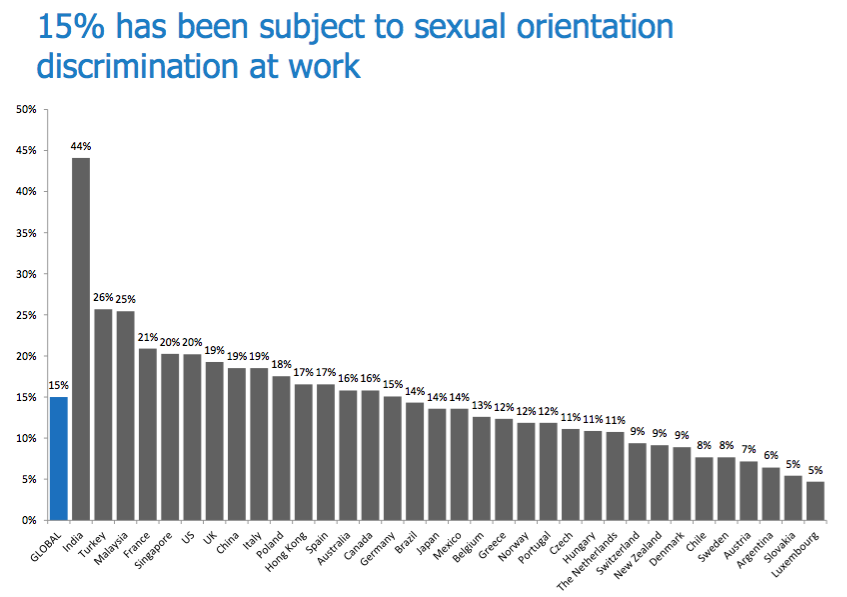 When employees were asked if they had been subjected to sexual orientation discrimination at work, on average across all countries measured, 15% of respondents said that they had.
The greatest discrimination occurred in India (44%), Turkey (26%) and Malaysia (25%). The least discrimination was reported in Argentina (6%), Slovakia (5%) and Luxembourg (5%).
Conversely, on average, 16% reported being discriminated against at work on religious grounds, 17% on racial grounds, 21% on gender grounds, and 26% because of their age.
On average 88% of respondents across the countries concerned said that they specifically did research on a company's reputation when looking for a job, and 87% said that they want to know if a company's culture will be appropriate for them when job hunting.
Randstad undertakes HR research and provides insights into global market trends and employment issues. Its quarterly Workmonitor, which surveys salaried employees among the general public, was launched in 2003 and now covers 34 countries.
The survey is an online questionnaire completed by 400 employees in each country concerned.
The survey examines employee mobility and to what extent workers express a desire to change jobs, alongside looking at a specific set of rotating questions – which in this quarter included workplace diversity.
A spokesperson for Randstad said that as the sample size in each country was relatively small (400 people), they did not wish to draw negative conclusions about any specific territory, but that the survey in its entirety – which questioned 13,600+ employees around the globe – provided a helpful snapshot of the global situation.
It was the first time that Randstad had questioned people on attitudes towards sexual orientation within its Workmonitor, so it was unable to offer comparable data from previous surveys.
Read the full September 2015 report here.
'We applaud Randstad for publishing this ground-breaking research demonstrating that, for the respondents, be they LGBT or not, sexual orientation is still an issue at work: ranging from 12% in Norway to 57% in Turkey, said David Pollard, Executive Director of the Netherlands-based LGBT advocacy group, Workplace Pride.
'It is also disturbing that even in countries such as the United States, France and Singapore, more than 20% of respondents have been subject to sexual discrimination at work. Clearly, there is still plenty of work to do.'
This has been reposted from Gay Star News.