NYC Fire Department gets first female and first openly lesbian chaplain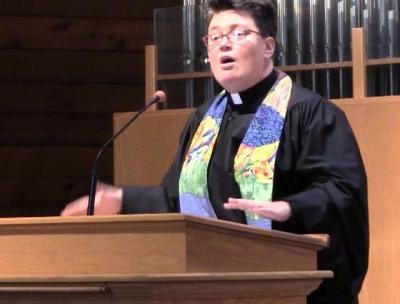 New York City's Fire Department has appointed its first ever woman chaplain and she is also the first ever openly lesbian person to serve in that role.
The Reverend Ann Kansfield was sworn into the role on Tuesday and joins six other chaplains on the force that are Christian and one that is Jewish.
New York Fire Commissioner Daniel A Nigro praised Kansfield for her community work around her Greenpoint Reformed Church in Brooklyn and welcomed her as the first ever female fire chaplain in New York.
'I'm excited to have Pastor Ann Kansfield join our ranks and assume her important role in the FDNY – providing spiritual guidance and emotional support to our 15,000 uniformed and civilian employees,' Commissioner Nigro said in a statement.
'She has demonstrated a strong commitment not only to the people of her parish, but of the entire Greenpoint community by running a soup kitchen and coordinating various local programs promoting music, the arts, and mental health. Through her work for and on behalf of others, she's a natural fit for our Department and our mission to protect and serve the people of our great city.'
The New York City Fire Department had come under fire because only 44 of its 10,500 uniformed fire fighters are women.
That means women make up only 0.4% of fire fighters in the city, compared to a national average of 3.5% women fire fighters in forces across America.
Kansfield was sworn in at a ceremony at a newly opened Emergency Medical Service Station in Brooklyn which also served as a ribbon cutting event for the station.
She was joined by her same-sex spouse and members of the local community.
This has been reposted from Gay Star News.