New website aims to help LGBTI professionals to network and find work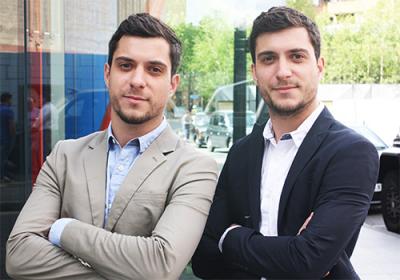 A new website is touting itself as 'a LinkedIn for LGBT professionals'.
MyGWork was launched last year by twin brothers Adrien and Pierre Gaubert.
The Gauberts grew up in Montpellier in France, but relocated to London around four years ago to study for their Masters degrees; Adrien at Kings College and Pierre at London School of Economics (LSE).
It was when they entered the world of work that they became aware of some of the problems experience by LGBTI employees, with both saying that their sexuality led to some unhappy experiences.
Adrien worked for a short time at a foreign consulate in China. He says that when he came out as gay, his sexuality became the subject of gossip.
'Everyone was whispering about it. There was a day when I was asked to pick out some flowers for an event as they said that people like me should know how to do it as we had better taste. Not very bad comments but also not very nice.'
'We were aware that LGBT professionals were quite low in the hierarchy of some companies, and weren't always treated fairly, so we decided that we should create an employment resource for LGBT professionals to work for companies where they would feel accepted.'
Pierre and Adrien are now based in the Waterloo area of London, from where they launched myGwork.
The site allows registered users to create a profile, promote their particular skills set, and browse job opportunities offered by membership companies.
'Users can create profiles, can rate the friendliness of their own company, and they can help each other to find employment,' says Pierre, who has a background in IT.
'Also, we offer extra networking opportunities, because we list all the networking events happening in London, from organizations like Jake, Radius, etc.'
At the moment, the site has a London bias, but Pierre tells me that they have had a lot of interest from the US and are definitely hoping to expand over time.
The two are keen to stress that they advertise a wide range of jobs – everything from vacancies in the financial and banking sector through to positions as waiters and voluntary work.
'We have some jobs that students might be interested in as part-time vacancies', says Pierre.
In fact, the site has a dedicated section aimed at graduates, allowing them to begin potential career networking ahead of their graduation.
The site also offers a section offering discounts for members at selected businesses, including legal and accountancy firms. Pierre also tells me that they've recently been in talks with GETA (Gay European Travel Association) about a future partnership – which again should bring benefits to members.
MyGwork is currently still small, with just around 200 members, but that number is growing daily. And despite advances in workplace equality, the brothers believe that there is still a huge need for a resource such as myGwork.
Indeed, research backs up the fact that many LGBTI employees feel that there is still a long way to go before workplace equality is a reality.
A YouGov poll in the UK in 2012, commissioned by LGBT advocacy group Stonewall, found that in the previous five years 2.4m people of working age had witnessed verbal homophobic bullying at work.
A further 800,000 people of working age had witnessed physical homophobic bullying at work, while over 25% of lesbian, gay and bisexual people were not at all open to colleagues about their sexual orientation.
'We hope myGwork will help remove the fear of coming out at work,' said Pierre in a statement, 'being beneficial to both the businesses and employees who may feel more confident about being themselves in the workplace.
'In return we hope this will lead to increased morale, productivity and retention – factors beneficial to everyone in the working environment.'
This has been reposted from Gay Star News.