The following is reposted from Towelroad.
Model Geena Rocero Comes Out As Trans During 'First Trans Ted Talk'
Model, activist and the founder of Gender Proud — a movement that aims to change the global perception of and conversation about transgender individuals — Geena Rocero recently came out in what's being lauded as the first TED talk about transgender issues on the main stage.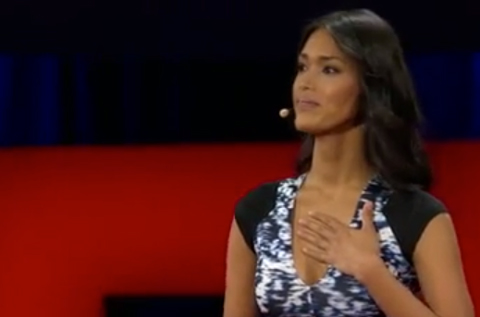 "Gender has always been considered a fact, immutable," Rocero said. "But we now know it's actually more fluid complex, and mysterious."
When Rocero began working as a professional female fashion model, she felt that she had achieved her life's dream — her outside self finally reflected her inner self.
But for the last nine years, some of her close friends and even her agent did not know that she was assigned a male gender at birth. She kept her past a secret because she was afraid of how people would treat her once she came out as trans.
"All of us are put in boxes by our family, by our religion, by our society — our moment in history, even our own bodies. Some people have the courage to breathe free, not to accept the limitations imposed by the color of their skin or the beliefs of those who surround them. Those people are always a threat to the status quo, to what is considered acceptable."
Rocero moved from the Phillipines to the U.S. so that she could legally change her name and gender marker. In a column for CNN, Rocero wrote:
"A personal turning point came in 2005, a year before I became a U.S. citizen, when I was traveling through Tokyo. Back then, I still had my Philippines passport and my former male gender marker, but I presented as a woman. I was taken into the immigration office at the airport and questioned for hours about my identity. I have friends in the Philippines -- where there is no law that allows them to change their name and marker -- that have these experiences every time they travel. It's dehumanizing."
In her TED talk, she explains, "For some people, their IDs are a license to drive or even to get a drink. For me that was my license to live. To feel dignified… Many are not so fortunate."
In an attempt to help transgender people gain their dignity by affirming their gender in government documents worldwide, Rocero has launched a Change.org petition and an IndieGoGo account to help fund Gender Proud's initial efforts.