Michael Sam Signed to Canadian Football League's Montreal Alouettes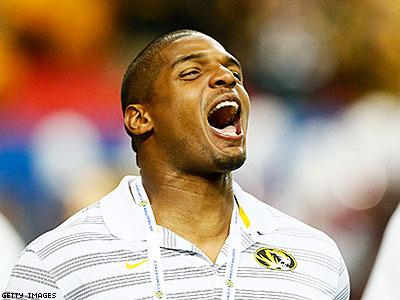 Michael Sam, the first openly gay man to be drafted into the National Football League, has signed a two-year deal with the Montreal Alouettes, reports the Associated Press.
After being drafted by the St. Louis Rams in the seventh round of the 2014 draft, Sam was cut from that team in August. He was subsequently picked up for the practice squad of the Dallas Cowboys in September, but was released from that team without seeing any game time in October.
Since then, Sam has been a free agent, and observers have been speculating about whether Sam would find a place in the NFL — which has yet to see an openly gay player take the field — or would migrate north to the Canadian Football League. The Alouettes play in the league's East Division.
"With the signing of Michael Sam, we have become a better organization today. Not only have we added an outstanding football player, we have added even a better person that brings dignity, character, and heart to our team," said Alouiettes general manager Jim Popp in a statement.
This has been reposted from The Advocate.