Meet the top 50 out gay business people in Britain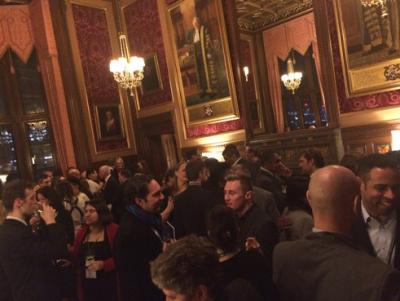 Britain's top 50 LGBTI business people have been named in a new list out today.
Executives from household names like Barclays, IBM, EY all make the grade. And in poll position is Antonio Simoes, chief executive at HSBC UK.
All of them have helped increase visibility of LGBTI people in the workplace.
Appropriate list judges were all openly gay or lesbian.
Entrepreneur and broadcaster Mary Portas, Labour peer Michael Cashman, Lord Guy Black of Brentwood, director of the Telegraph Media Group and diversity expert Linda Riley made up the Out at Work and Telegraph Top 50 judging panel.
Riley said: 'This list isn't about the highest paid executives, it is about those who are blazing a trail and smashing the glass ceiling and proving that being lesbian, gay bisexual or transgender is no barrier to success.'
While the list is formally released today, those on it were guests at a reception at the Speakers' House in the UK parliament last night to celebrate.
2015 Out at Work Top 50
1 Antonio Simoes, Chief Executive Officer, HSBC UK
Simoes has increased the visibility of LGBT issues at HSBC, works with their Pride networks and Chairs the UK Diversity and Inclusion Committee. Lord Browne dubbed Antonio 'a poster child for diversity' in his book, The Glass Closet.
2 Claudia Brind-Woody, Vice President and MD, Global Intellectual Property Licensing, IBM
One of the most senior out executives at IBM and co-chairs their Global LGBT Executive Taskforce, taking the lead in revolutionizing training on LGBT visibility and rights. She serves on LGBT boards and is an active speaker at LGBT events worldwide.
3 Christopher Bailey, Chief Creative and Chief Executive Officer, Burberry
Bailey's role sees him as the first openly gay CEO of a FTSE 100 company, responsible for over 11,000 employees. Since joining Burberry as creative director in 2001, the company's revenues have increased fourfold.
4 Anthony Watson, Former Global Chief Information Officer, Nike Inc.
Watson is the first British and non-American citizen to be appointed to the Board of Directors of GLAAD, he is also a patron of Diversity Role Models, and chair and head judge of the European Diversity Awards.
5 Audrey Connolly, Head of FOS Operations, Lloyds Banking Group
Lloyds Banking Group's most senior out gay woman. She is co-chair of the group's LGBT Rainbow network and advises on LGBTI-related HR policy improvements and LGBTI-specific marketing activities.
6 Andy Woodfield, Partner and Head of International Aid Development Consulting, PwC
As Partner at PwC, Woodfield is the most senior out role model. He created the LGBT network GLEE@PwC, takes a keen interest in LGBTI and Human Rights challenges, and is a trustee for Diversity Role Models and Action Breaks Silence.
7 Claire Harvey, Senior Consultant, Inclusive Leadership, KPMG
Harvey is a Paralympic athlete and chair of the Government Equalities Office steering group against homophobia and transphobia in sport.
8 Beth Brooke-Marciniak, Global Vice Chair of Public Policy, EY
Named as a Forbes 'World's 100 Most Powerful Women', she helped unify EY's LGBTI networks globally and has spoken at LGBTI events.
9 Vincent Francois, Managing Director and Regional Chief Audit Executive, Societe Generale
Francois leads Societe Generale's LGBT agenda. Founder and Chair of the Societe Generale LGBT network, he was ranked #46 in the Guardian's World Pride Power List.
10 Margot Slattery, Managing Director, Corporate Services, Republic of Ireland and Northern Ireland, Sodexo
Slattery sits on Sodexo's global LGBT network leadership team and chairs the UK diversity and inclusion sexual orientation workstream. She's a non-executive director for Out House, an Irish community and resource center and is on the Board of GLEN (Gay and Lesbian Equality Network) and Stonewall.
11 Harry Small, Partner and Head of Global Technology Practice Group, Baker & McKenzie LLP
Small was instrumental in developing Baker & McKenzie's LGBT network. He also sits on the legal panel for the Human Dignity Trust and is involved with Stonewall.
12 Robert Kerse, Executive Director of Resources, Circle Housing
As well as Executive Director of Resources, Kerse is also the executive and strategic lead for diversity and inclusion and the executive sponsor for the LGBT network group, working with charities like the Albert Kennedy Trust.
13 Nicholas Creswell, VP Performance and Talent Management, Thomson Reuters
As UKI lead for Thomson Reuters LGBT network, Pride at Work, Creswell was instrumental in improving product content for LGBTI employees. He is a Stonewall ambassador, organizes events and works with a variety of LGBTI organizations.
14 Stephen Frost, Global Head of Diversity, KPMG
Frost's appointment at KPMG follows previous diversity posts at LOCOG and Stonewall. A visiting fellow at Harvard University he has also written a book, The Inclusion Imperative.
15 Daniel Winterfeldt, Head of International Capital Markets and Diversity and Inclusion Partner, CMS Cameron McKenna
He is a Stonewall Ambassador, founder of InterLaw Diversity Forum, has launched Apollo Project, and most recently embarked upon the Purple Reign initiative highlighting LGBT role models.
16 Gary Millar, Cabinet Member for Business and CEO, Liverpool City Council and Parr Street Studios
Millar was the UK's first out LGBTI Lord Mayor and has raised money at over 1,500 LGBTI events. He is a director of Social Enterprise Network, drustee of St George's Hall Charitable Trust, and chair of the Michael Causer Foundation.
17 Wing Commander Mark Abrahams, Wing Commander, Royal Air Force
Helped establish the RAF's LGBT Forum, which he has chaired since 2006. He promotes equality in the RAF and helps to shape conditions of service for LGBTI personnel.
18 Michael Brunt, Executive Vice President and Managing Director Global Circulation, The Economist
In addition to his role at the Economist, Brutn mentors LGBTI staff, is a regular participant and organizer of diverse networking and LGBTI events. He has regularly used LGBTI messaging and imagery within The Economist.
19 Denny Tu, Head of Strategy and Planning, Sky
Tu sits on Sky's creative senior leadership team, serving as a mentor to emerging LGBTI talent. He is actively involved in Sky's LGBTI diversity change program HRC, the Albert Kennedy Trust and Stonewall.
20 Mark MacKenzie MBE, Capability Development Specialist, Transport for London
MacKenzie is a founding member of TfL's LGBTI network and led the group's support for Pride in London. A member of various LGBTI rights boards, he's also an ambassador of Hope for the DABs the AIDS Bear Project.
21 Emma Cusdin, Senior HR Business Partner, Thomson Reuters
In addition to her role at Thomson Reuters, Emma organizes events for greater understanding of transgender people. She's a facilitator of the National Trans Youth Conference, and founding member of Trans*formation network.
22 Robert Annibale, Global Director, Microfinance and Community Development, Citi
He has spearheaded Citi's position against the US DOMA law and engagement with LGBTI organizations internationally, including Stonewall's Global Diversity Champions Programme, the Gay, Lesbian and Straight Education Network, Out on the Street (which Citi's CEO hosted in NY in May) and Anti-Violence Project.
23 Steven Cox, Executive Director of the Public Sector, Fujitsu UK and Ireland
At Fujitsu, Cox has used his position on the executive board to start, champion and visibly lead the LGB agenda, forming Shine, the company's networking group and a mentoring program.
24 Joao Soares, Partner, Bain and Company
Joao Soares is the leader of Bain's EMEA LGBT employee network, BGLAD and an advisor to prospective and current LGBTI employees. Joao will also feature on the LGBT Leaders Conference panel in February.
25 Steve Wardlaw, Partner-in-Charge, Baker Botts LLP
Wardlaw has been openly out at work, despite holding office in Russia, Saudi Arabia and Nigeria. He has worked on diversity in Moscow and London.
26 John Dickinson, Stores Implementation Manager, Tesco
Dickinson works across the Tesco Group with the board to influence change within Tesco for LGBTI related issues and furthers the company's involvement in the LGBTI community.
27 Liz Bingham, Partner, EY
Bingham is the most senior LGBTI Partner at EY and is the diversity and inclusiveness co-sponsor. She was number 31 in the World Pride Power List, has received the Women in Banking and Finance Award and is a Global Stonewall Role Model.
28 Paul Reed, Chief Executive Officer, BP Integrated Supply and Trading
Reed is an executive sponsor of BP's Pride Affinity Network. He was formerly a member of the BP Group CEOs diversity council, chaired his own divisions Diversity Council and helped launched the LGBT Professional Oil Industry Network in Singapore.
29 Emma Woollcott, Associate, Reputation Protection Team, Mishcon de Reya
She runs Mishcon's Pride Network and founded and Pink Law, a free legal advice service for LGBTI people. She provides pro bono advice to Broken Rainbow and sits on the steering committee of the Gay Women's Network.
30 Mark McLane, Global Head of Diversity and Inclusion, Barclays Bank PLC
In his role at Barclays, McLane has introduced innovative approaches to communication and product design for the LGBTI community. He also developed a global diversity and inclusion strategy focusing on gender, LGBTI, disability, multiculturalism, and multi-generationalism.
31 Jacqueline Davies, Human Resources Director, Financial Conduct Authority
Davies sits on the FCA's Diversity and wider Operations Committees. She was Executive Sponsor for the LGBT network at Lloyds Banking Group and Barclays, and was a Stonewall Trustee and Chair of the Stonewall Board.
32 Alison Camps, Deputy Chairman, Quadrangle Research Group Ltd
Outside of Quadrangle, Camps is the director of marketing and advertising for Pride in London, a voluntary youth worker, a school governor and a coach for The Work Foundation's Campaign for Leadership.
33 Roland White, Diversity and Inclusion Leader for Europe, IBM
An openly out IBM employee working with top leaders. He's co-chair of the IBM UKI LGBT Network, giving guidance for LGBTI employee policies and procedures.
34 Jan Gooding, Group Brand Director, AVIVA
Sponsors the LGBTI employee network Aviva Pride and is chair of trustees at Stonewall.
35 Jim McEleney, Chief Operating Officer EMEA, BNY Mellon
He is chair of the firm's regional diversity council, regional representative on the global diversity council, EMEA executive sponsor for the women's network and has launched several LGBTI initiatives.
36 Patrick Rowe, Managing Director of UK and Ireland Legal Group, Accenture
At Accenture, Rowe engages with the board on LGB equality issues strategies, hosting LGB networking events and representing Accenture outside the organization at LGB events. He is also a formal mentor for LGB staff.
37 Simon Fillery, Global Head of Diversity and Inclusion, Barclays Investment Bank
Fillery is currently head of diversity and inclusion for Barclays Investment Bank and is the global lead for their LGBTI agenda. He sits on the board as treasurer of the Albert Kennedy Trust.
38 Amir Kabel, Diversity Manager, Vodafone
Kabel's role at Vodafone UK has seen him create a highly inclusive working environment. Amir has hosted summits, set up LGBTI networks and written LGBT rights guides for employers.
39 Javier Ruiz Del Rio, Senior Account Manager, Campaign Monitor
Key in establishing UK InterTech LGBT Network and established a global LGBT network and mentoring program for LGBTI staff. He's also involved with Stonewall, Kaleidoscope and Cogam.
40 Tim Jarman, Assistant Director of Diversity and Inclusiveness, EY
Jarman is committed to driving EY's LGBTI agendas. He regularly speaks at diversity conferences, is involved with Stonewall, is on the National Student Pride steering committee and also champions LGBTI inclusiveness in sport.
41 Tony Tenicela , Global Leader, Workforce Diversity and LGBT Markets, IBM Corporation
Tenicela has been recognized by multinational corporations as a thought leader in diversity and works to drive LGBTI rights worldwide. He manages IBM's global LGBTI commercial strategy, leveraging numerous corporate community partnerships worldwide.
42 Carole Anderson, Head of Strategy and Performance, Golden Jubilee National Hospital
Anderson ensures LGBTI issues are recognized across communications development, strategy implementation and general awareness at the Golden Jubilee National Hospital and is actively involved with Stonewall Scotland.
43 Geoff Pringle, Chief Operating Officer, University of Exeter
In addition to his role as COO of Exeter University, Pringle is chair of the LGBT Equality Group. He plays a lead role in Exeter Pride and is a board member of Hospice Care.
44 Alison Berryman, Chief Operating Officer, Barclaycard
As Chief Operating Officer, she is responsible for the operations and technology strategies of Barclaycard's UK business and as a member of their LGBTI network, Spectrum, works together to create an open and diverse workforce.
45 Marianne Roling, MD of Mobile for Microsoft in Central and Eastern Europe, Microsoft
Roling sits on the Board for GLEAM, the Gay and Lesbian Employees at Microsoft worldwide, speaks at events such as Women in Wireless and the Gay Women's Network (GWN).
46 Matt Batham, Senior Tax Partner, Deloitte UK
Batham acts as a mentor for staff at Deloitte through their UK's GLOBE network of 260 people. He has also been a panel member for organizations such as Interbank LGBT Forum and speaks on LGBTI panels.
47 Paul Maddock, Solicitor, DWF LLP
Maddock founded and chairs DWF's LGBTI employee network, OutFront, and has organized events. He reviewed the firm's HR policies to help champion LGBTI needs and has written articles on diversity.
48 Vinay Kapoor MBA, UK Head of Diversity and Inclusion, BNP Paribas
Kapoor is committed to driving the success of the group's diversity and inclusion agenda, founding their Diversity Week.
49 Alison McFadyen, Programme Director, Standard Chartered Bank
She is an active member of the Standard Chartered LGBT network and a regular speaker at their LGBTI events.
50 Deborah Sherry, Director of Partners Solutions, Google UK
- See more at: http://www.gaystarnews.com/article/meet-top-50-out-gay-business-people-britain160115#sthash.dEA0FQnZ.dpuf
This has been reposted from Gay Star News.