Lord Browne: Staying the closet is 'not a valid choice… the cost is huge'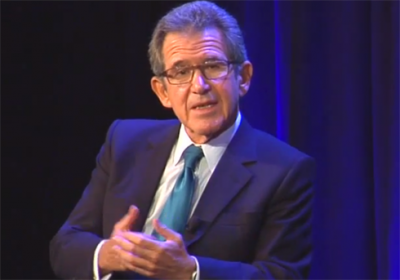 Lord Browne of Madingley, who was outed by a newspaper in May 2007 after it discovered details of his relationship with a man, spoke movingly today at a leading business and diversity conference in London.
The annual EurOUT 2014 conference – now in its fourth year – was held at the London Business School, Regents Park. The event is aimed at tomorrow's business leaders; both students and recent alumni.
A British peer, Lord Browne remained professionally in the closet for his entire business life. Away from work, he also chose to reveal his secret to very few people in his personal life either.
When he discovered that a former lover was trying to sell his story to a newspaper, he attempted to take out a super injunction against the paper, arguing that the story was a private matter and not of public interest.
He also attempted to hide the fact that he had met the man via an escort website, and instead claimed that he had met him whilst exercising in Battersea Park.
In seeking a super injunction – a legal measure that would prevent the newspaper publishing the story – he signed a witness statement to this effect. It was this fact, when it came to light, that made him decide that had no option other than to resign.
Since that time, he has spoken out about the huge amount of energy it took him to remain in the closet. He has also recently published a book, The Glass Closet, exploring his business life, his decision not to come out, and interviewing others – both those in and out of the closet – who work in the business world.
This year's EurOUT conference was the biggest yet, attracting 150 students from business schools all over Europe [some pictured right]. To a packed auditorium, Lord Browne was asked by one student whether he could understand some of those assembled choosing to stay in the closet. Lord Browne's advice was unequivocal:
'I would say to them it is not a valid choice. Think of the cost of it. The cost will be huge, and it's an unnecessary cost in today's environment. The cost is unimaginably high, and it changes everything.'
Reflecting from his resignation from BP – a company that he is widely credited with transforming during his time as Group Chief Executive (1995-2007) – he said that he felt the newspaper revelations would prove the end of him. Instead, he was 'overwhelmed' by the huge number of letters he received with message of support.
'Thousands of letters. Tragic letters. Some from straight people that had been roasted by the press, others who'd been in jail in the 50s for being gay – it was a year of experience reading those letters. Humbling. All those fears I'd had of losing everything … nothing changed. People continued to invite me to things. Suppliers still approached me about doing business.'
'I was born when being gay was illegal and my mother, a holocaust survivor, had rules: never tell anyone a secret as they might use it against you, and never reveal being part of a minority as when the going gets tough, the majority bash the minority.
'I created an edifice of being asexual, and kept this false duality right to the end.'
'I made some appalling judgments. I went to an escort site as I thought no-one would know about it. Secondly, I built a relationship, and then when it broke down, to concoct a story to people about how we met. And lastly, when a tabloid called me, I tried to take out a super injunction, and signed a witness statement saying we'd met at Battersea Park.'
'When you're in a high-profile position, you have a duty to be authentic and clear on who you are. I wasn't.'
He said that he felt business schools have a duty to teach students about the value of diversity in a business context.
'Schools need to instill in them how long it takes to build teams of people, and to understand what inclusion means. And that it's not something that can merely be delegated to HR. The moment they take charge of it, as opposed to the CEO taking charge of it, it goes wrong.'
In the world of global organizations, he acknowledged that some sectors, such as finance, were doing better than others when it came to diversity and inclusion, and that gas and oil companies were among the worst – partly because some are state-owned by countries that have poor records in regard to LGBT rights. However, he said that he felt things were slowly changing, and singled out his former company, BP, as one organization that had made great progress since his departure.
Although he knows that staff at BP were 'shocked' when he came out, it now has two openly gay members of its Executive Committee.
'It's doing pretty well. I give it five out of ten, but then I'm very mean on scores, so that's pretty good!'
'Is really is important to recruit the best of the best, and it really is good to foster engagement. And I can say this as the member of two minorities, that people from minorities tend to over-compensate [in terms of effort], so why wouldn't you seek out these groups?
'Do I think the oil and gas industry will be transformed? Well, let's see.'
This has been reposted from Gay Star News.