Lesbian actress Ellen Page happy to be shooting movie with bisexual co-star Evan Rachel Wood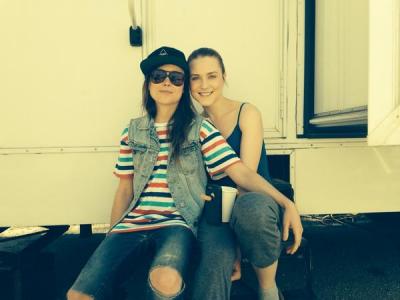 With more and more Hollywood stars coming out publicly, it is inevitable that some of them would end up working together on a project.
That has happened with Oscar-nominee Ellen Page, who came out as a lesbian on Valentine's Day, and bisexual actress Evan Rachel Wood.
The two stars are playing sisters in the new film Into the Forest which is based in the novel by Jean Hedland.
Their characters live in a remote ancient forest and they fight for survival as they discover the world around them is on the brink of an apocalypse.
Page tweeted a photo of the two on the set and wrote: Shooting #intotheforest with the incredible @evanrachelwood
Earlier this year, Wood told Gay Star News that she went public about her sexuality because she hoped to help end the 'weird stigma' about bisexuality.
'I remember growing up not knowing it was a thing, feeling very confused, feeling very alone,' she said. 'So that is one of the reasons why I came out publicly, to help another struggling 12 year old who is terrified - just to let them know - it's okay and that it is very real. Your trials and tribulations are just as real as anybody elses.'
This has been reposted from Gay Star News.