India's First Gay Ad Goes Viral Despite Anti-Gay Laws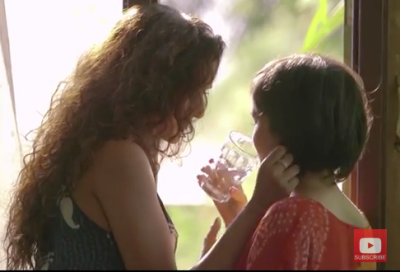 A video advertisement from India depicting two lesbians has gone viral, even though the country has strict anti-gay laws and homosexuality is illegal there. The video, titled The Visit, was posted May 28th and currently has over 600,000 views on Youtube alone. It features two lesbians who are in a relationship and living together, getting ready in their apartment in anticipation for a first meeting with one of the girl's parents.
The video is an advertisement for Anouk, which is a line of contemporary ethnic apparel. Says Avishek Ghosh, co-partner of Hectic Content, the production house that made the film, "We tried to avoid the stereotypes associated with gay people. There was no one woman looking more masculine or feminine in the film. We tried to give it a candid feel like it is any other couple being apprehensive about meeting the parents."
The video is a huge step for the LGBT community in India, where homosexuality is currently illegal. But LGBT rights activist Ashok Row Kavi believes the visibility of the ad, which has over 3 million views between Facebook and YouTube, is helping the cause. He calls the ad "a bold statement", and also believes that "there is a huge audience that accepts this".
Watch the 3 minute advertisement below:
Information for this article has been sourced from The Times of India.