The following is reposted from The New Civil Rights Movement.
In Historic Move, Governor Appoints Lesbian Judge To Puerto Rico Supreme Court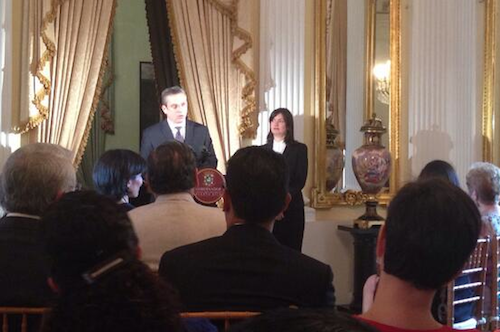 Democratic Governor Alejandro García Padilla has just appointed Maite Oronoz Rodríguez to the Supreme Court of Puerto Rico. Rodríguez would be the highest-ranking openly-lesbian or openly-gay judge at the state level in the U.S. The Commonwealth of Puerto Rico is a U.S. territory, and its Supreme Court is equal to any state's Supreme Court.
At this morning's announcement in the Hall of Mirrors, Rodríguez thanked her partner, Gina Mendez Miró, saying, "without you I would not be here." She added, "I am aware of the enormous responsibility that falls on me."
Rodríguez is currently the Director of Legal Affairs of San Juan, according to local Puerto Rican news PrimeraHora. She has a Master's in law from Columbia University, and a Juris Doctorate (J.D.) from the University of Puerto Rico, where she graduated Magna Cum Laude.
In 2012, Alejandro García Padilla narrowly defeated then-Governor Luis Fortuño, an anti-gay Republican. In 2010, weeks after the Matthew Shepard and James Byrd, Jr. Hate Crimes Act was signed into law by President Barack Obama, Fortuño refused to label as a hate crime the violent murder of Jorge Steven López Mercado, whose body had been decapitated, dismembered, and burned. Padilla won by just 0.6 percent of the vote. The final results were 47.73 percent to 47.13 percent.
Historically, there have been other openly gay, lesbian, and transgender judges at the state and federal level.
In 1979, Stephen Lachs became first openly gay judge to be appointed in the U.S., to the Los Angeles County Superior Court. In September of last year, the U.S. Senate voted unanimously to confirm America's first openly gay federal appeals court judge, Todd Hughes. In 1994, Deborah Batts became the first openly gay US federal judge. And in 2010, Victoria Kolakowski became America's first openly transgender judge.