Hillary Clinton Hires Openly Gay Campaign Manager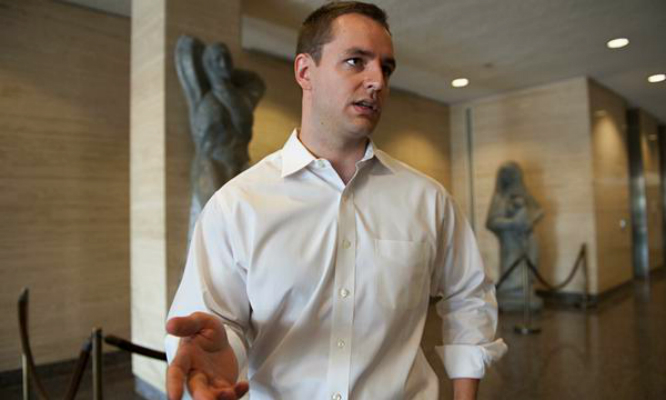 Hillary Clinton, running to be the first female president, has already made history. Her campaign is the first to hire an openly gay man to run it.
It has only been a few days since former Secretary of State Hillary Clinton announced her run for president, and already her intention to put gay rights front and center (and make the right own their anti-gay discrimination,) is in evidence. Earlier today Sec. Clinton's campaign came out strongly for the Supreme Court to make same-sex marriage legal in all fifty states, and in case you didn't think she was serious about that "gay rights are human rights" announcement, she has appointed Robby Mook, a gay political operative from Vermont to manage her campaign.
Robby Mook, (photo above,) comes to Hillary's presidential campaign fresh off a decisive victory. He managed Terry McAuliffe's successful run for Virginia Governor in 2013 - the campaign that sent legendary homophobe Ken Cuccinelli packing.
In a world that on a good day is half Roman circus, half disaster response, Robby is famous for his laid back personality, and non-confrontational style. Mother Jones described him as someone known for "inspiring loyalty and handling outsize egos," which has got to come in handy in the Primaries. Robby is also known for running a leak-free campaign. Can he possibly manage that feat on the most scrutinized national campaign going?
The one conclusion I think we can safely draw from Hillary Clinton's plea to the Supreme Court for equality and from the hiring of Robby Mook, is that Sec. Clinton has made the decision to embrace LGBT equality her official position, and make her Republican opponents own their anti-gay stance.
May she ride the gay equality wave right into the White House.
This has been reposted from New Civil Rights Movement.