Gay couple win parenting blog award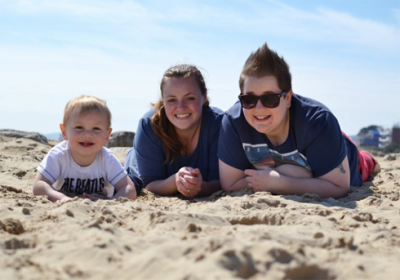 A British lesbian couple from Dorset have won an award for their same-sex parenting blog.
Kirsty and Clara Taylor-Gallop, aged 32 and 26 respectively, started their 'MyTwoMums.com' blog in 2012, posting blogs, videos and photos of their family life together.
The two met via online dating site gaydargirls in 2007. They married in 2010, and decided that they wanted to start a family. Their son, who they refer to on the site as 'Monkey', was born in July 2012. Clara became pregnant with the help of a private sperm donor.
'Don't worry,' they say on the site, 'we weren't cruel enough to officially call him Monkey. We use this term so that if he grows up and decides he hates this blogging lark, his name won't be all over our blog.'
On Friday, the women attended the fifth, annual Mum and Dad (MAD) Blog Awards in London – and event launched to celebrate the UK's thriving parent blogging community. According to organizers, the awards received 250,000 nominations, which were narrowed down to 75 finalists. MyTwoMums won the top award in the 'Most Innovative Parent blog' category.
On winning the award, Kirsty said afterwards, 'I am delighted and amazed to have won this award. I started writing a blog in 2012 as a way to share our adventures as same sex parents and it's grown from there. Being an award winner means the world to us, and all our family are so proud.'
Tamsin Kelly, editor of Parentdish.co.uk – sponsors of this year's awards, said: 'The MAD Blog Awards 2014, and our winners, really show the diversity and extraordinary quality of blogs that are being created in the UK. This has been a tremendous achievement by everyone involved, and shows the vital role that blogs continue to play in parents' lives. We are very proud by the sponsors of these awards.'
As award winners, Kirsty and Clara received a trophy and new home streaming system and games console. The couple told GayStarNews that they loved being parents and were thinking about extending their family: 'We would love to have more over the next couple of years.'
You can check out their site at MyTwoMums.com
This has been reposted from Gay Star News.