Gay couple Angel Haze and Ireland Baldwin rock VMAs red carpet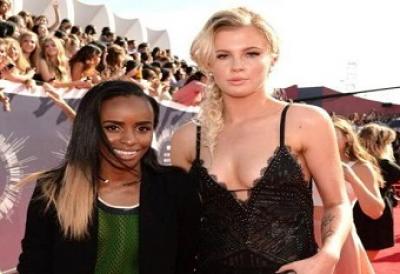 US gay couple Angel Haze and Ireland Baldwin held hands as they posed for the cameras on the red carpet of the Video Music Awards yesterday (24 August).
The pair, who confirmed their relationship in June of this year, posed proudly together as an openly gay couple.
Baldwin, model and daughter of actors Alec Baldwin and Kim Basinger, held hands with rapper girlfriend Angel Haze as they posed for photographs on the red carpet at the ceremony in California.
Haze, 23, was nominated in the category of Best Video with a social message for her song 'Battle Cry', collaboration with fellow LGBTI artist Sia, but lost out Beyoncé.
The pair has already attracted praise for being a visible and young LGBTI couple in the public eye. MTV described them as 'the cutest VMA couple of the night.'
Haze has previously spoken out about the reaction to their interracial, lesbian relationship.
'An interracial gay couple, I mean that's just weird for America right now,' she said in June.
However, their appearance on the red carpet seemed to be an affirmation of their relationship.
'so proud of my nominee @AngelHaze, was honored I could be your date tonight baby,' tweeted Baldwin after the ceremony.
This has been reposted from Gay Star News.