Gay CNN Anchor Richard Quest Says His Work Is Better Since Coming Out On Air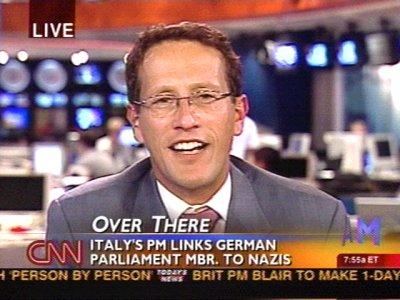 It was just a few months ago that CNN anchor and reporter Richard Quest talked for the first time with viewers about his being a gay man in the context of a story about being out at work.
'I decided it was time to come out,' Quest told a crowd on Thursday (21 August) at a gathering of the National Lesbian and Gay Journalists Association in Chicago.
Quest said his 'worst fears' about the disclosure hurting his career 'never materialized' and believes his work is better now 'because I'm honest about who I am.'
Based in New York, Quest hosts various business programs for CNN and says 'I believe you leave opinions and views with your hat and coat at the door. But I also know that in this new (media) environment, you can no longer say, "That's private, that's not for discussion."'
In that spirit, Quest was asked about his 2008 arrest in New York's Central Park. He admitted to possession of crystal methamphetamine. He also had a rope around his neck that was tied to his genitals and a sex toy in his boot.
'How many people were waiting for that?' Quest said after looking at his watch and pretending to leave the stage.
''It had absolutely no impact on my decision to come out,' he said of the incident which had essentially outed him.
'It was a terrible incident in my life which required a total appraisal of my life and huge support from my family. If the ship is sinking, you need help getting off that ship.'
At 52, Quest now appears confident as an openly gay journalist. But he remembers feeling differently in his 20s when he worked for BBC.
'I was terrified about people knowing I was gay,' he said.
One of his fears was that if people knew he was gay, producers and cameramen might balk at the prospect of sharing a hotel room with him while on assignment.
'I'd cringe inside at the idea that they'd be talking behind my back.'
These days, he won't let his sexuality impact what he covers even if it includes going to countries with anti-gay laws.
'If I have to go to Nigeria, if I have to go to Uganda, I've made clear that I will continue to go to those places - it's my job.'
This has been reposted from Gay Star News.