Gay, Bi, Transgender: The 85 Most Powerful Comings Out of 2014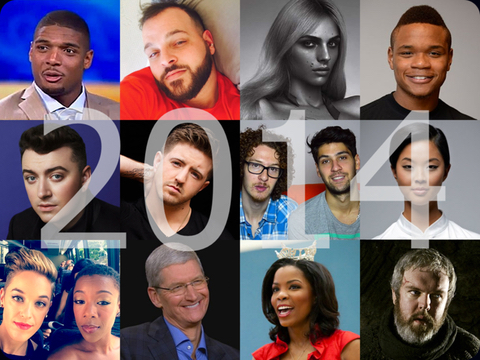 "I think coming out...is really about coming out as your authentic self, coming out as the person you always knew you were but no one else may have known, and now you're sharing that honestly with people for the first time."
Such is how Rodrigo Lehtinen, the trans son of Congresswoman Ileana Ros-Lehtinen, explained to CBS Miami last month what it meant for him to now be open about who he is.
It's as simple as that, whether you're gay, lesbian, bisexual, transgender, queer or some fluid combination of any of them. But it's certainly an act of courage in a world where LGBTQ people face obstacles in marriage, employment, and even basic acceptance. In many places, the status of being 'out' about one's sexual orientation or gender identity is dangerous, even life-threatening.
In 2014 thousands, perhaps millions of people came out all over the world. They all made a difference. The folks featured here are just a few who happened to make a big difference and caught our eye on Towleroad this year. Some are well-known, some are little-known: the CEO of the largest corporation in the world, an NFL player, a Kenyan literary figure, fashion models, the foreign minister of a Baltic state, country singers, Mormon pop stars, a few of the stars of your favorite television shows, and unknowns from the world of YouTube.
When it comes to coming out, 2014 was certainly the year of the athlete.
Of the 80 people on our list this year, more than 1/3 come from the sports world — football, baseball, boxing, tennis, long distance running, hurling, basketball, rowing, and diving. Many of these athletes are making a name for themselves in college sports, many in conservative places. Twenty-one come from the entertainment world. And they are from all over the world — Japan, Peru, Ireland, Uruguay, Brazil, Germany, Australia, Finland, Canada, Spain, Chile, and more... Also, the leader of a company worth more than all the world's airlines combined, worth more than the entire Russian stock market.
It's quite an impressive group of folks. We're proud of all of you. By choosing to come out as L, G, B, T, queer, or whatever label your sexual orientation or gender identity is telling you is yours, you've made life easier for all those who haven't come out yet, and all those who are currently struggling for their civil and human rights.
Please enjoy reading their stories. And share this post with your friends, family, and anyone in the closet to whom you'd like to offer a bit of courage or support.
Check out the full list at Towleroad.