Former Miss Spain Beauty Queen Comes Out on Instagram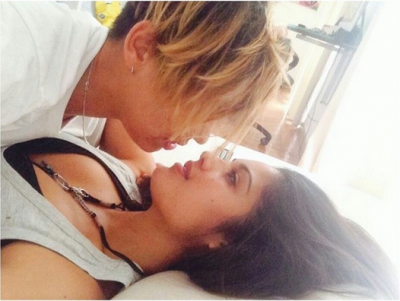 A Spanish beauty queen revealed her sexuality by posting an intimate picture of her and her girlfriend on photo-sharing app Instagram.
Patricia Yurena Rodríguez Alonso won Miss Spain in 2008 and 2013, posted the picture on 19 August of her partner Vanesa Klein with the caption: 'Romeo and Juliet.'
News quickly spread on social media and was soon inundated with messages of support.
'Thank you for all your comments,' she said.
'I posted the photo naturally and impulsively,' she wrote on Instagram. 'I appreciate the outpouring of support and even more to rejoice in my happiness. Thank you!'
Yurena, 24, from the Canary Islands, has had her coming out photo 'liked' by over 5,000 Instagram users.
The romantic photo shows the two women lying in bed together.
Yurena told a local newspaper in Tenerife she was happy with her sporadic decision to post the photo.
'I don't regret what I did and I did it because I am happy about what's going on in my life,' she said.
On Twitter, the former beauty queen has been inundated with support.
'Why is being a lesbian news?' said one user.' What matter is you are in love. Congratulations.'
'The Spanish Patricia Yurena,' said another. 'Beautiful and brave! A big kiss to you and your girlfriend.'
Yurena has been heralded as perhaps the first openly gay national beauty queen.
This has been reposted from Gay Star News.