The following is reposted from The Advocate
Former College Football Star, Kevin Grayson, Comes Out As Gay
By Jase Peeples
In the wake of Jason Collins' historic announcement that he is a gay professional athlete, former college football star Kevin Grayson is also kicking down the closet door and has a message for any young player who may be struggling with their own sexuality.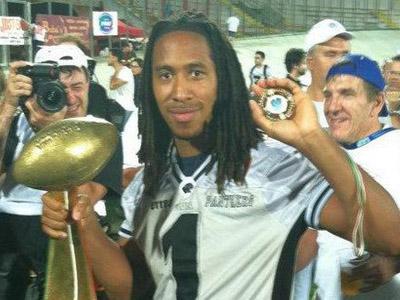 "Just because you're gay doesn't mean you can't be the athlete you want to be. Doesn't mean you can't be a star. Doesn't mean you can't go out there and go just as hard as anybody else, if not harder," Grayson said in an interview with WTVR in Richmond, Va.
Grayson speaks from experience. During his career, he achieved a long list of accolades. He was already a decorated high school football player when he began playing for the University of Richmond, but as a wide receiver for the Spiders, Grayson helped his college team win the national title in 2008 and remains second on the list of all-time receivers in receptions, yards, and touchdowns.
While a torn ligament in his knee kept Grayson from being drafted by an NFL team in 2011, he went on to play professionally in Italy with the Parma Panthers and not only helped the team win the Italian Football League, but was named MVP as well.
However, Grayson says he never considered coming out before because he didn't want to become a distraction for his teammates and preferred to keep his focus on his sport. "If you are an athlete, you want to be an athlete. You want to be known for what you've done on the basketball court, football field, tennis court, whatever. You don't want to be that person who it's always 'the "gay" athlete,'" explains Grayson. "You don't want to be the focus in that way. Not to say that it's a negative, but when you have people just asking questions about your sexuality and how teammates are taking it, it takes away from the importance of the preseason."
However, today Grayson feels differently and hopes by coming out more people will realize an athlete's sexuality has no impact on his ability to play. "Why can't I be an athlete? Why can't I be a star player?" asks Grayson. "Why can't I be the guy making plays that helps my team win, and still on the flip side, be a gay male?"
Watch Grayson's full interview with CBS 6 WTVR below.