The following is reposted from Towleroad.
For Tegan & Sara, Growing Up as a Lesbian Twin Wasn't Always Easy
The latest episode of Dan Bucatinsky and Lisa Kudrow's "How It Got Better" series features twin female indie rockers Tegan and Sara. The other videos so far have featured Jason Collins, George Takei, Laverne Cox, actress Jane Lynch and fashion designer Tim Gunn.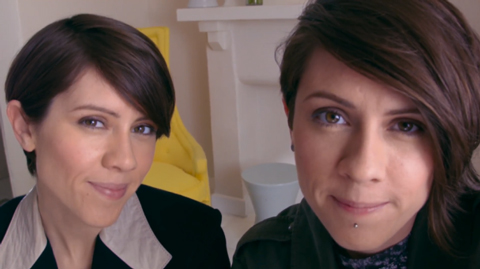 Tegan and Sara grew up preferring boy's toys and clothing, and their parents — who had to bribe them to wear dresses in family photos — thought it was just a phase. But around age 12, Tegan began to notice feeling differently feelings her female friends.
Sara, simultaneously realizing her own lesbian inclinations, began to feel an uncomfortable around the girls in her school and locker room. Having been a child of the 90s, she looked up to openly bisexual rocker Ani DiFranco and lesbian performers like Melissa Etheridge and k.d. Lang.
Later on, Tegan (the scamp) read her sister's diary and learned that she was gay, and the two then "beat the crap out of each other." Tegan felt excited that her twin sister was also gay, but also worried that others would find out. She also feared that others would automatically assume that she'd only identified as lesbian because her twin sister had too.
When Sara began bringing her first girlfriend around, her mother eventually asked if they were dating. When Sara answered yes, her mom became uncomfortable and told Sara not to bring her girlfriend over anymore, which started heated arguments between the two; her mom eventually became more supportive though.
As the twins entered their 20s, they began to understand that they could mix political messages into their pop music to help create social change, and so they did.
Tegan says, "I don't think our music is eradicating ignorance and homophobia or sexism. I think it's just helping people come a little bit further over the line to understanding."