Finding Lana: The Story of a Transgender Columbus Firefighter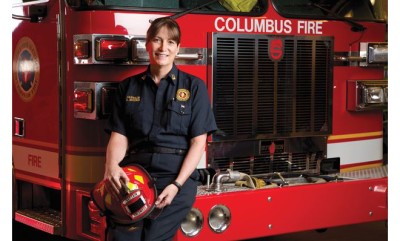 Sitting alone at a table in a wine bistro, waiting for her dining companion, Lana Moore looks like an ordinary woman.
Middle-aged and pretty, she's wearing dark jeans, black flats and a burgundy sweater. She waves a manicured hand and smiles, which highlights the apples of her high cheekbones and brightens her honey brown eyes. Her hair curls softly around athletic shoulders. She's tall, just over 6 feet, but slender. A gold pendant in the shape of a firefighter's crest hangs from a delicate chain around her neck. She orders a glass of pinot noir.
"My name is Larry, and I'll be taking care of you tonight," the server offers before departing to fetch her drink.
Once he's out of earshot, Moore quips sweetly: "I don't think I'll have a problem remembering that."
Larry is a name Moore won't soon forget. It's the name she heard daily for 48 years, the name by which she introduced herself and the name to which she answered. It was a name she hid behind. Moore, 55, hasn't always been a woman, and Larry Moore was her name when she was a man—a son, a husband, a father. A little more than seven years ago, after spending decades feeling like a prisoner to her own body, Moore bid farewell to Larry and became entirely, unequivocally Lana. A captain within the Columbus Division of Fire, she made her transition on the job and, much to her surprise, was met not with hatred and intolerance but rather an outpouring of support and understanding. Today, Moore remains a leader on the fire truck and has become a different sort of leader off it, advocating for transgender equality and serving as a role model for other transgender people, including firefighters and children, across the country. Finally, Moore is the woman she feels she was always meant to be, and she is far from ordinary.
Read the full story here.
This article was reposted from Columbus Monthly.