Empire's Jussie Smollett Comes Out to Ellen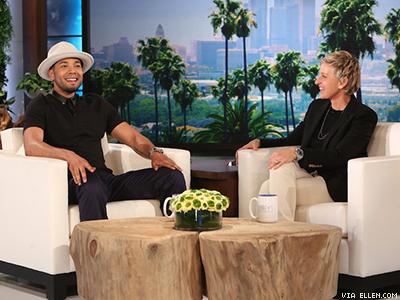 Oh the complications of coming out publicly. One might think, after all that's been written on the subject, that it's so simple. Men and women do it every day in Hollywood, right? No big deal.
But ever since actor Jussie Smollett was cast in Empire, Lee Daniels's hip-hop primetime soap on Fox, people have wondered if he was openly gay, as his character Jamal struggles with homophobia from his family and the music scene in which he's involved. Up until now, Smollett has kept quiet to enquiries about his personal life and whether he's openly gay. But on today's episode of Ellen, the actor finally discussed his personal life. Sort of.
He performs "Good Enough" from Empire on today's episode of The Ellen DeGeneres Show, and the two discuss the episode where Jamal "comes out" by singing about loving a man in his version of "You're So Beautiful."
They discuss how the show has become such a huge hit, a "phenomenon," and Ellen then asks what has happened since his character has come out and asks Smollett: "What's happening in your life?"
Smollett responds in a sort of oblique non-answer format:
"Well what's happening in my life, it's been great. You know I get some ignorant tweets every once in a while you know, and I know you're not supposed to respond, but sometimes you got to clap back! You know what I'm saying. By all means my mother, who's in the back right now, she's absolutely an activist. And I'm a firm believer that people cannot get away with murder, although I love How to Het Away With Murder. But you cannot allow people to just spew hate and be ok. I have a tattoo that's the first line in 'Man in the Mirror' that says, 'I'm going to make a change.' And I just feel that, as tenants of this earth, it's our job to make a difference and make the world better and we can't just sit around and let people spew nasty things and just think that's OK. It's not OK."
That apparently caused some folks to feel like he skirted the question, so Ellen caught up with him in the green room before he left and asked him to discuss his personal life and whether he is gay. It's an awkward exchange in which Smollett never says, "I'm gay," but he does admit to never having been in any closet. Again he says his "mother knows" and she loves him. This is meant to be his "coming out," and the two say that it's now out in the open and people "don't need to ask anymore." But something tells us, this is going to just be the beginning of the questions.
This has been reposted from The Advocate.