Construction workers don rainbow laces to show support for gay colleagues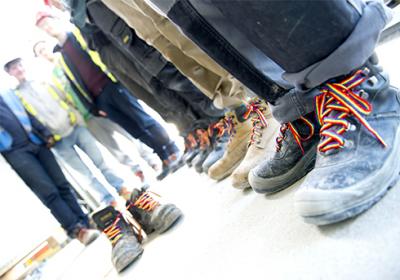 Following the success of its 'rainbow laces' campaign to raise awareness of homophobic attitudes in football, UK LGBT advocacy group Stonewall has widened the campaign to target the property and construction industry.
Last autumn, the organization sent a pair of rainbow-colored laces to every professional footballer in the UK and encouraged them to wear them at the beginning of the new football season to show support for making football a more LGBTI-friendly and inclusive environment.
The campaign received widespread press coverage. An corporation that was clearly paying attention was property and infrastructure group, Lend Lease.
It has now teamed up with Stonewall to send rainbow laces out to its construction workers in London.
A spokesperson for Stonewall told Gay Star Business that 1,000 pairs of laces have were sent out a week ago to workers at several sites in the Capital, including Elephant & Castle regeneration project, The Zig Zag Building, and The International Quarter in Stratford.
He said that 'they've gone down extremely well' and had received a, 'fantastic response from both LGBT and straight workers.'
Chris Edwards, Client Group Manager at Stonewall said in a statement, 'We know that LGBT people still face challenges working in the construction industry. That's why initiatives like this – and the work of senior role models and allies at Lend Lease and across the sector – are absolutely vital.
'We're committed to working with organizations in the construction sector to help make the industry open and welcoming to all.'
Lend Lease Group is an international company that has delivered projects in Australia, the US, Europe and Asia. It has its headquarters in Sydney, Australia.
In the UK, Lend Lease built the Athlete's Village in London for the 2012 Olympics and has been responsible for the construction of over 3,000 apartments. It has recently launched its own allies program.
Speaking of the rainbow laces initiative, Martin Coyd, Head of Health & Safety in Europe at Lend Lease, and Chair of the Lend Lease Europe Diversity Council, said, 'At Lend Lease, we pride ourselves on creating the best places and valuing the ways in which we differ.
'A diverse and inclusive culture makes good business sense. To perform at the best of our ability, we need a culture and an environment that embraces difference and where we can benefit from the diverse thinking, experiences and backgrounds of our people.'
One of the UK's biggest unions, which includes a construction sub-division, welcomed the campaign but said that it needed to be reinforced with clear policies protecting LGBT workers.
Siobhan Endean, head of equalities at union Unite, told Gay Star Business, 'This is a welcome initiative, but we need to ensure that campaigns like these are backed up with clear legal rights, policies and action to ensure workplaces are free from harassment.'
This has been reposted from Gay Star News.