Coming Out Kicking: Openly Gay Former College Kicker Tries for the NFL
It had been months since Alan Gendreau put on a pair of cleats and stood three yards behind a football. The former Middle Tennessee State placekicker had all but left the game behind when he graduated a year ago.
Yet there he was on a Saturday morning in early April lining up for a kick, the sun beating down on the bright green field as the wind swirled around him. A half-hearted attempt to make it to the NFL was in his past; the crush of a disappointing senior season, punctuating a stellar college career, had been put in his distant memory. Now with renewed purpose, Gendreau had made a potentially game-changing decision: It's time for him to shoot for the stars again.
After a brief instruction on how I should hold the ball for him, Gendreau looked up from his backward steps and focused downfield.
"I always focus on a spot past the goal post," he said as he readied for his first kick. "Gotta aim further than I'm trying to go."
With a deep breath, arms outstretched, and one last stare past the goal posts 40 yards away, he took three steps toward the ball and let his foot fly. The connection lifted the ball soaring, passing through the uprights and finally hitting the track 20 yards past the field, bouncing high over the distant fence.
Gendreau stood there beaming.
"That felt real good," he said. "Let's back up 10."
Over the next half hour, he nailed field goal after field goal, clearing the crossbar with plenty of distance to spare every time despite standing up to 55 yards away. As the wind picked up and drove sideways across the field, he adjusted his aim, letting the crosswind guide the ball for another goal.
When he was done, he'd connected on all but two attempts.
"Tell me again why you walked away from football?" I asked.
He kicked the grass, processing his performance, his head down almost embarrassed by the question.
"I don't know," he finally said. "But now I've got to walk back in."
Gendreau had a record-breaking career at Middle Tennessee State.
With a PAT in his final game as a Blue Raider, he became the all-time leading scorer in Sun Belt Conference history with 295 points. His longest field goal in college, at 55 yards, was the second-longest ever in the conference. That was 12 yards short of the 67-yard field goals he connected on during team practices; it was even shorter than field goals he kicked in high school.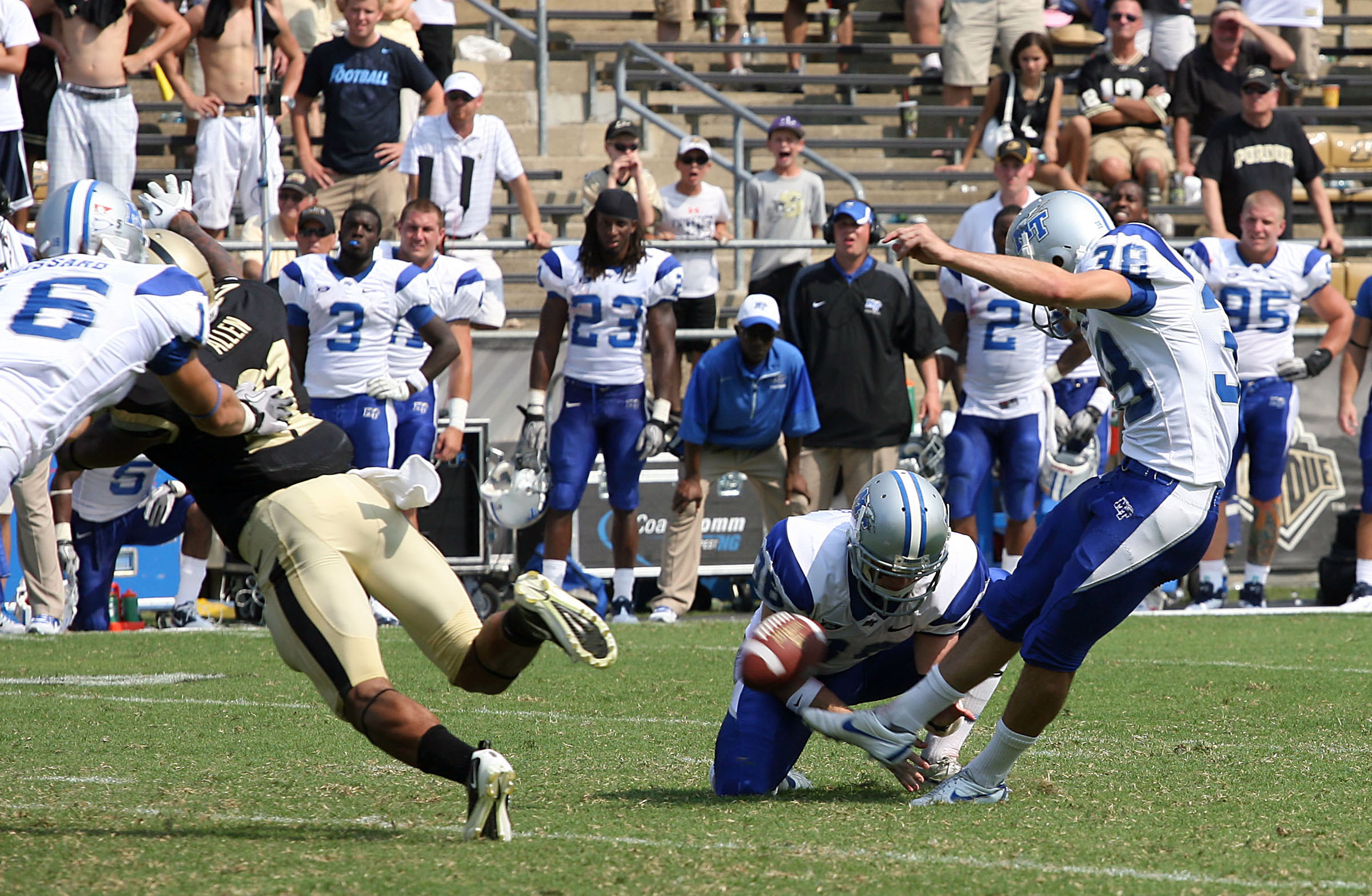 In his sophomore and junior years, he was 28-of-34 for an 82-percent conversion rate. In 2009, he was a national semifinalist for the Lou Groza Award that honors the top college place-kicker in the U.S.
Gendreau had a tendency to convert when the team needed it most. In a big match-up at Maryland early in his sophomore year, he hit a 19-yard field goal from a badly angled left hash mark with no time left to lift his team to a huge road win. It prompted the team chaplain to nickname him "Ice," a moniker the kicker carried the rest of his college days.
His career kickoff average was only 57 yards, but Gendreau said that was due to his coach's mandate to "pooch" most kickoffs. Given his ability to hit 67-yard field goals, and his performance that Saturday drilling the ball well over 60 yards, his explanation makes sense. He also has some speed for a kicker, logging a 4.95-second 40 time at his pro day; he recorded three tackles on kickoffs at MTSU.
After his third year, he was headed straight for a shot at the NFL.
Trouble started the first game of his senior season, in a big match-up at Purdue. His first attempt of the season was blocked when protection broke down and a defender came straight through the middle of the line. But it was the second blocked kick that lingered in his mind. With five seconds remaining in the same game, down 27-24, a defender broke through from the corner to prevent overtime.
"I was so ready to start my big push for the pros," Gendreau said. "And I connected with the ball perfectly on those kicks. They were going in. But sometimes the protection breaks down. I had great protection for three years, but on those two attempts it broke down. It messed me up for a bit."
While Gendreau was quick to not place blame, saying football is a team sport, his holder and team punter Josh Davis set the record straight: "Those weren't his fault. It was a total breakdown in protection."
Still, those blocked kicks contributed to a 1-for-5 start over the first three games of his important senior season. While he recovered, going 7-for-9 on precious few attempts in his final nine games, the damage was done. Scouting reports heading into the 2012 NFL Draft rated him a middle-of-the-pack kicker.
Hoping to impress scouts and get a shot at the League, he attended the kicking camp of former NFL kicker Michael Husted in San Diego a couple months before the draft.
"I was impressed with him," Husted said, immediately remembering the smiling kid from Tennessee. "From a kicking standpoint I thought he had a lot of talent. He definitely has the potential to kick at the next level."
A couple agents took some early interest in Gendreau, but their follow-up was weak and they disappeared. Given only 62 attempts in his four years with the team — just over one per game — he wasn't on the radar screens of many NFL teams. Gendreau's dream of the pros slowly drifted away.
"I didn't have an agent, and I didn't know how to get one," Gendreau told me as he longingly watched two men toss the pigskin across the park from where we sat. "I felt stuck. I didn't know what to do. I'd been competing since I was 3, and I started telling myself I needed a break from competition anyway."
He paused and absorbed the full impact of that decision.
"That was pretty dumb."
I first met Gendreau four years ago when Outsports ran an anonymous story by sociologist Eric Anderson about the gay kicker. Gendreau was a freshman at MTSU at the time, out to his teammates and embraced by them. He didn't reveal his name publicly at the time because he feared how it would affect both his family and his shot at the NFL.
Now openly gay and 23, with a deep-seated confidence in his sexual orientation, Gendreau wants another shot at the pros. This time, he wants to do it open and honest about who he is. This time, he wants to give it everything he has.
The Orlando, Fla., native knew he was gay at a very young age. He came out to friends and family at 16, started dating boys in high school and had on-again, off-again relationships with men through college.
"When you know, you know," he said with a smile.
Gendreau has also long been a devout Christian, raised in a deeply religious household. It's a tough mix, being gay and Christian. When he came out to his parents in high school, they put him in church-based counseling. That lasted four sessions.
His sexual orientation collided with his hometown church during the winter break of his freshman year in college. Back home in Orlando for three weeks, Gendreau brought his then-boyfriend to a church gathering with friends from high school.