The following is reposted from The Gaily Grind.
Brazilian Champion Diver Ian Matos Comes Out As Gay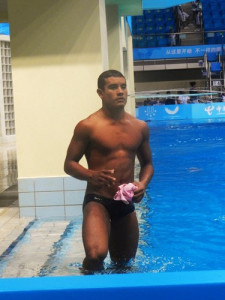 Inspired by British diver Tom Daley's YouTube coming out video last month, champion Brazilian diver Ian Matos has come out publicly as gay in an interview with the newspaper Correio.
Last week, former German national and English Premier League midfielder Thomas Hitzlsperger, became the highest-profile soccer player to announce that he is gay.
According to OutSports:
From a young age, I knew I was gay, but it was here that I got to live my sexuality," said Matos, 24, now living in Rio de Janiero.

He said a friend advised him to stay closeted until after the 2016 Summer Olympics in Rio, but Matos said the pressure of hiding boyfriends, avoiding gay parties and not being himself proved too much. He said he hoped that coming out would not impact his ability to be a successful diver and not cost him any potential sponsorship.

Matos was the Brazilian 3-meter champion in 2013 and won a bronze medal in 2012 during an event in the U.S.