Athlete Comes Out, Becomes Only Active Gay Football College Player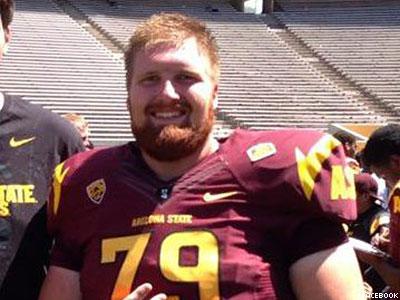 Arizona State backup offensive lineman Edward "Chip" Sarafin has come out publicly in Compete, an LGBT sports magazine. Sarafin, a redshirt senior listed at 6'6" and 320 pounds, becomes the first known openly gay active player in major college football, according to Outsports.
As a redshirt, Sarafin has already earned his bachelor's degree in biomedical engineering, and he is currently pursuing a master's degree in the same field. He is also studying for the MCATs and has taken on a number of football-related community outreach projects. He says that one notable issue, particularly in football, is the physical and mental harm caused by multiple concussions. The long-term effect of multiple head injuries has most recently been in the news as the catalyst for the suicides of former NFL players Paul Oliver and Dave Duerson, among others.
Sarafin also works with the Pat Tillman Foundation, an organization invested in veterans and their spouses, and named after the late ASU and Arizona Cardinals player Pat Tillman, who was killed by friendly fire in Afghanistan in 2004.
Like Michael Sam, Sarafin began coming out to his teammates as an active player, but his public announcement makes him the first openly gay football player on an active collegiate roster. The proud Sun Devil says he wishes ASU had a neurology school, as he eventually would like to pursue a career in that field. A man of many goals and many accomplishments, he remains focused but grounded. As he tells Compete, "Someone who gives back to everyone, and loves his family… that is the type of man I want to be."
This has been reposted from The Advocate.