Allyson Robinson Won't Rest Until Trans People Can Serve Openly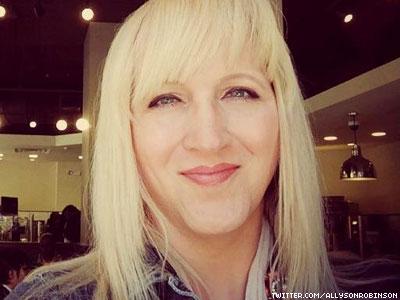 Though gay, lesbian, and bisexual military personnel have experienced vast improvements since the repeal of "don't ask, don't tell," transgender troops are still dodging the possibility of being outed, among other forms of discrimination. One of the most vocal leaders to change all that is Allyson Robinson, a West Point graduate, who served for five years as a combat weapons officer in the Army before becoming a pastor ministering in the Portuguese Azores.
More recently, however, Robinson was the first transgender person to lead a national LGBT organization as executive director of OutServe-SLDN. Now she's got a new job, back in the faith community as a minister at the Calvary Baptist Church in Washington, D.C.
Robinson voices her values with a natural warmth and inner strength. She spoke to The Advocate at Netroots Nation in Detroit last week, shortly after she participated in a panel about making the military more trans-inclusive. She says the key to truly inclusive Armed Forces isn't just getting the top brass at the Department of Defense to understand transgender service members, but to also understand that not all transgender people are alike.
The Advocate: One of the things you were talking about during the "Trans in the Military" panel was a flight to masculinity… Do you think this is a common thing for those designated as male at birth, to join the military as a cure for transsexuality? Do you think that's credible?
Allyson Robinson: You know, that fact is talking with hundreds of transgender people who are serving, hundreds more trans veterans... there's a thread there, right? There's a thread of that present for transgender men as well, being in an environment where the expression of masculinity, or stereotypically masculine behavior is encouraged, is lauded; but it's just one thread in a tapestry that kind of mirrors the rest of the country. The fact is, people join our military for lots of different reasons, and trans people are no different.
It's a really great job with really great benefits, and a better one than they may be able to find elsewhere, because of the kinds of discrimination that trans people face. Whether you are a young person just starting out, or somebody who's a little bit older, who's got a family, it begins to look like a really terrific option.
And then there's this thing that really kind of cuts through all of it. I don't know that I can point to many people in today's military, the all-volunteer force — even in my own time of service — that don't join at some level because they want to serve their country. I see that particularly among people who have served post-9/11. There's a very strong common thread of that kind of patriotism that ties people together, and trans people are no different in this regard.
Defense Secretary Hagel has said he will review the policy on trans military service. Now, we also know that Hagel was not the most supportive when he was a senator. Do you buy that he's going to review the policy, and do you think this will be resolved positively while he is secretary of Defense?
When I was leading Outserve-SLDN during the period of time when Secretary Hagel's name was first floated by the White House as a potential nominee, we were very cautious and treated that nomination with a great deal of skepticism for this reason. It was not only his voting record, which was atrocious, but it was his public record — the way he spoke about LGBT people in public, and spoke to LGBT people in committee hearings. So we approached that nomination with a great deal of caution.
Through the process of nomination and confirmation, and getting to hear from Secretary Hagel, beginning to hear from people who knew and who had worked with the secretary, it started to become clear to us that there had been a real change here. And so I think one of the things that makes our movement strong, broadly, is that we almost always do this; we almost always give people the space to change.
Now, with Secretary Hagel we were very clear. You know, we appreciate the words, and he was very quick to sort of speak the right words. We told Secretary Hagel at the time that, "We need to see action. Here are the actions that we expect to see from you over the course of the next few years." One of those was the implementation of benefits that could be offered to gay and lesbian service members prior to the repeal of [the Defense of Marriage Act]. He didn't get to do that. His predecessor, Leon Panetta, did in his last days in office, before [Hagel] took office. Another was when DOMA was repealed, that implementation of the repeal of Section 3 [of DOMA] would be smooth, that it would be complete, and that it would be as inclusive as it possibly could be in its interpretation. And the Department of Defense has largely done exactly that. This is, I think, one of the great successes that Hagel has had in his leadership around LGBT issues.
There were a couple of other things, though. There were no nondiscrimination protections, even for gay and lesbian people — there are still issues that are outstanding.
Do I believe Hagel when he says that all people should be allowed to serve regardless, if they're qualified? Yes, I do. Do I believe that he has a will to review these regulations? I do. But the secretary's not the only one with power in the building. [The Joint Chiefs of Staff] are going to have to be brought in line, and that's the challenge that I think is ahead of us right now.
Do you believe that antitransgender bigotry among the command staff is what is driving the slowness of this? It seemed there was a certain momentum when "don't ask, don't tell" was repealed, but that seemed to just kind of fade away. Do you think that's a problem of the command staff?
Is there antitrans bias and prejudice in the department? Certainly. Absolutely. Does it exist among those in the positions of greatest power and influence? Of course it does. It certainly does. You know, it exists at all levels, just as it does practically everywhere else in society today. What we find in the work that we're doing with the Pentagon now, though, is that the real barriers are barriers of ignorance.
For example, this argument that Hagel has made very publicly a couple times now: "We're just not sure how this works in austere environments." What we're finding is that that's an argument that's really based on an understanding of the medical requirements for trans people that's just flat-out wrong. The kinds of medical requirements associated with hormone replacement therapy — these are medicines we're already shipping to troops serving on the front lines, and it has no adverse impact on their ability to serve.
During the panel, you said that in the United Kingdom, trans people actually served before gays and lesbians. Does that say something about transgender identity? Should Americans be more cautious to ensure we don't invalidate transgender identities in our process?
Trans people served in the British military 10 years before gay and lesbian people were allowed to serve. I think the connection that allowed that to happen is one that is useful in our context, but that is also reason for caution. What allowed that to happen in the British military was a recognition or a perspective on transgender identities that was largely shaped by a medical, pathological model. Obviously, the potential problems that arise from that kind of a model are obvious to those of us who have been involved in fighting for transgender civilian rights for some time. The fact is that medical models, medical definitions of our identities, always leave someone out. The challenge for us is to guide the United States Department of Defense to an understanding of transgender identities that respects the need for medical care that many of us have, but that also recognizes that not all transgender people are the same and that our care needs are going to be different.
You've recently returned to the Christian ministry, and I believe that this is your first time in the ministry as a trans person. I have to believe that you hear so much of the negativity about trans people comes from the religiously affiliated, those who claim, frankly, to speak for God. What is that like to return to ministry as a trans person?
I was an ordained Baptist pastor of not deeply conservative, but moderate Baptist churches for about a decade before I transitioned, [but] the church that ordained me had never moved to rescind that ordination. Technically I've always kind of been ordained. The community of faith that my family and I belong to today, the Calvary Baptist Church in downtown D.C., is a 152-year-old congregation. This congregation grew out of the civil rights struggle at the time of the American Civil War, and has been welcoming and affirming for over a decade.
That group of people felt that they wanted to affirm that in my own life, and then asked me to contribute to the work of our congregation some interesting and important ways right now, as we're moving through a time of transition of our own as a community.
It was deeply moving to be affirmed in that way. I'm really at a loss for words... But I think that for many of us trans people, we take these steps in our lives, and institutions in which we had invested ourselves up to that point — and up to that point were very proud of us — are quick to disown us. There was a time in my life and in my family's life where we, my wife Danielle, and I looked at one another and said, "Gosh, I'm just thinking we'll never be welcome to worship in a church of our own tradition again," and we discovered we were wrong, and that discovery, that affirmation, just means so much.
This has been reposted from The Advocate.