Air Force Takes A Big Step Toward Allowing Transgender Service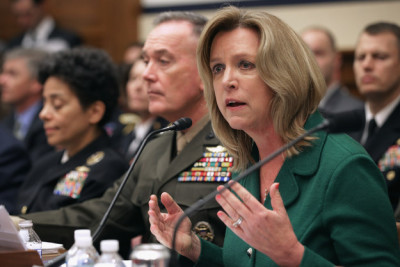 WASHINGTON — The Air Force went further Thursday than any other service branch has gone toward ending the ban on out transgender service in its ranks — although many questions remain about what will happen to trans people who are serving in the Air Force.
In addition to raising the level of commander who can sign off on the discharge of transgender service members, the Air Force announced that discharges based on gender dysphoria — the medical diagnosis that corresponds with seeking treatment for being transgender — would only proceed if a commander also determines that the person's gender dysphoria "interferes with duty requirements."
The news, which caught advocates off guard, was announced in a Thursday evening news release issued by the Air Force days before an event celebrating LGBT pride month is scheduled to be held at the Pentagon. The news also came hours after confusion in the White House press briefing Thursday led White House Principal Deputy Press Secretary Eric Schultz to clarify to the Washington Blade that, regarding the issue of trans service, "Generally speaking, the President certainly agrees with the sentiment that all who are qualified to serve should be able to serve."
The quoted text in the statement from the public affairs office of Secretary of the Air Force Deborah Lee James was a statement very similar to one made in March by the Army — but further instructions in the statement break significant new ground.
"Though the Air Force policy regarding involuntary separation of gender dysphoric Airmen has not changed, the elevation of decision authority to the director, Air Force Review Boards Agency, ensures the ability to consistently apply the existing policy," Daniel Sitterly, the principal deputy assistant secretary of the Air Force for manpower and reserve affairs, was quoted as saying.
In March, the Army similarly raised the authority to discharge trans service members from commanders in the field to the assistant secretary of the Army for manpower and reserve affairs.
The Air Force statement on Thursday, however, went further — stating, "Neither gender dysphoria nor self-identification as transgender is an automatic circumstance that generates involuntary separation."
It went on to lay out the procedure under which an out trans service member could continue to serve in the Air Force, stating, "A recommendation for discharge because of gender dysphoria must be supported by a report of evaluation by a psychiatrist or Ph.D.-level clinical psychologist. In addition, after consultation with medical professionals, there must be a commander determination that the condition interferes with duty requirements — including potential deployment — or duty performance."
Specifically, the requirement that "there must be a commander determination that the condition interferes with duty requirements" is a step that has never before been required for discharges of trans service members in any branches.
The Air Force statement concluded, "Identification as transgender, absent a record of poor duty performance, misconduct, or a medically disqualifying condition, is not a basis for involuntary separation." It was not immediately clear how and whether the "medically disqualifying condition" exception might apply to some trans service members in the Air Force.
Also unclear was whether and to what extent the Air Force would provide trans-specific health care services for trans service members. Air Force Secretary James was, however, the first service branch chief to make a statement — in December 2014 — supportive of reviewing the military regulations banning transgender service.
Advocates of trans service celebrated the news. "This is a significant step forward for a portion of roughly 15,000 current transgender service members across all branches," Allyson Robinson, SPARTA director of policy, said.
"It is becoming increasingly clear that there is a carefully constructed plan to deconstruct the ban on trans service," Human Rights Campaign vice president Fred Sainz said Thursday night. "Things like this do not happen by coincidence in the Pentagon. While this may be a trial balloon, it is an important one in that it will herald even more important decisions in the future."
Robinson added, though, "However, we need a consistent solution across all the services."
SPARTA has called for a moratorium on transgender discharges until the military policy is updated to reflect current medical practice.
The Pentagon's LGBT pride month event is scheduled to be held on Tuesday, June 9.
This article has been reposted from BuzzFeed.